"The fear of the unknown is very serious."
Primary Media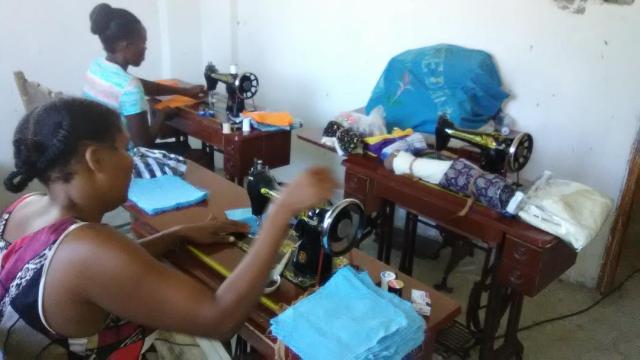 Credit: Église Méthodiste d'Haïti
Published On: May 11, 2020
Body
Haiti can't seem to catch a break: the 2010 earthquake, hurricanes, poor government, and now the corona virus. With more than 35 percent of its population facing hunger, the Caribbean island nation was already on a World Food Program list of food-insecure countries that require urgent attention.
As of May 5, Haiti had reported 100 cases and 10 deaths from COVID-19. Testing is limited, though, and the spread of infection will likely get worse: The Dominican Republic next door recorded more than 8,000 cases and 346 deaths.
In Haiti, schools are closed, leaving children at home. Families are crowded in their homes all day. Most of the time there is no city power, and sometimes the outage spans several days. Haitians who look for odd jobs (the "informal economy") are unable to do so, resulting in less money for basic necessities. Farmers who may have food available in the fields are unable to transport it to market.
Jean Lesly Dorcély, bishop of Haiti's Methodist Church, says that its 120 local congregations are not holding public services, and limited access to Internet means that ministers have few ways to offer support. "The fear of the unknown is very serious, and ministers cannot be reassuring to their flock. Financial contributions will undoubtedly decrease as people's income shrinks," says Dorcély.
Yet, the ever-resilient Haitians are doing what they can in the face of these multiple challenges.
Haiti's Methodist Church, a Mission & Service partner, supports more than 100 schools, a half-dozen medical clinics, and a variety of social ministries. All of them are adapting to respond to this crisis. The clinics, an orphanage, and a long-term care home continue to operate, but with schools closed, children who normally receive food at school are unable to do so.
The United Church's Mission & Service helps sustain Haiti's Methodist Church as a whole, providing core funding that can be directed as needed. Rather than being limited to a particular project, Mission & Service funding provides support at the organizational level so life-changing programs can take place. In the face of COVID-19, for example, with financial support from a team of volunteers from the United States, the Methodist Church has set up sewing projects at seven locations to make face masks that help prevent the spread of infection. Over 5,000 masks have been made and distributed so far.
Your Mission & Service contributions make a huge difference in Haiti by making it possible for the Methodist Church to run its churches, schools, and health clinics, and to host projects like the mask-making endeavour that save lives. Thank you.
—Submitted by Jim Hodgson, Latin America/Caribbean program coordinator
Learn more about the challenges the people of Haiti face in Jim's pre-COVID blog post.