Collaboration provides food assistance in Zimbabwe
Primary Media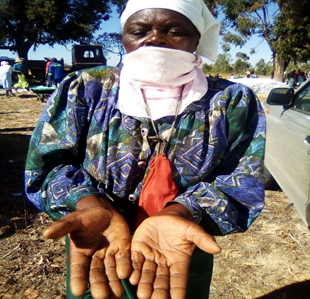 Eustina Musarira shows the blisters on her hands from supporting her family through tending gardens, collecting firewood, and building fences.
Credit: Zimbabwe Council of Churches
Published On: October 7, 2020
Body
Zimbabwe and its people have faced huge challenges in the past several years. Political and economic instability have left many families living in poverty, reliant on day labour, and growing crops to meet their family's needs. Cyclone Idai devastated an already at-risk population. Ongoing drought in some parts of the country have further reduced food production. Food insecurity is a fact of life for much of the population, a reality that has only become more apparent with COVID-19 restrictions.
Mission & Service partner Zimbabwe Council of Churches is working with The United Church of Canada and Canadian Foodgrains Bank to provide hungry families with food assistance that will help cushion the shocks of drought and COVID-19.
Food assistance is an essential support to many who otherwise would not eat, providing help to those who need it most. It helps families and communities survive until the next crop can be planted, the drought eases, or COVID-19 restrictions limiting movement and jobs are lifted.
While each family receiving food has its own story, here are two of the women whose families were able to receive support.
Florence Gava is 64 and feeding a household of 12 with seven children under the age of ten. A farmer, Florence found herself unable to find feed her family because of the drought. COVID-19 restrictions meant that travelling to find work or food was not possible. Food assistance has provided a bridge for Florence, who hopes for a good harvest next spring.
Eustina Musarira is 63 and the sole provider for four grandchildren. "I used to water vegetable gardens for other people, collect or sell firewood, fence people's plots, and weed other people's fields to earn a living. I eat from my sweat, but I couldn't continue because of COVID-19," she says.
These two families represent the stories of 668 households (7,110 individuals) helped through the collaboration of the United Church, Canadian Foodgrains Bank, and Zimbabwe Council of Churches.