"Why not make these videos and we will just have all the superheroes speak in Anishinaabemowin?"
Published On: December 4, 2020
Body
Find this video and others available for streaming and for download on our YouTube channel.
We all have superpowers. Generosity is one of them. But did you know that the power of generosity through Mission & Service supports real-life superheroes?
Esbikenh was once a junior kindergarten teacher. While he grew up knowing his ancestral language, Anishinaabemowin (pronounced Ah-nish-nah-BEM-win), sadly the children he taught didn't. "One day I turned on YouTube and saw superhero videos. I thought, 'Why not make these videos and we will just have all the superheroes speak in Anishinaabemowin?'" says Esbikenh.
The Truth and Reconciliation Commission of Canada's Calls to Action include reclaiming, revitalizing, strengthening, and maintaining Indigenous languages. This is critical for cultural revitalization. It's also important because when people are able to speak their ancestral language, self-understanding and self-esteem grows, health improves, and the sense of connection and relationships with others flourishes. Knowing how important learning Anishinaabemowin is to the children he once taught, Esbikenh applied for a project grant from the United Church. The Healing Fund, which is nearly entirely funded through Mission & Service, addresses the ongoing impacts of the residential school system.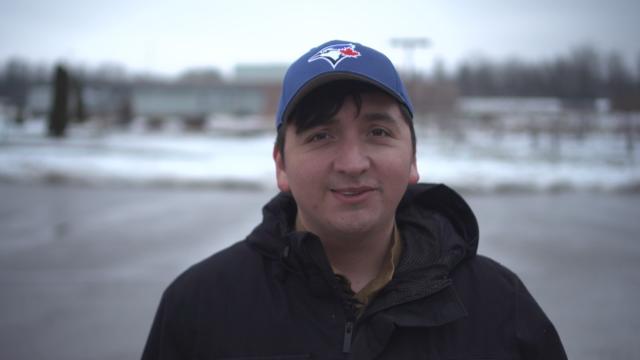 Credit: The United Church of Canada
With financial support secured, Esbikenh's filming has begun. When the videos are finished, they will be used as an educational resource for teachers, parents, and anyone who wants to learn the Anishinaabemowin language.
Ashley Riley, the librarian and arts coordinator at Antler River Elementary School of Chippewas of the Thames First Nation, Ontario, plays a starring role in the films. She describes the systemic oppression of Indigenous peoples in Canada that results in the loss of language, among other things. Ashley's mother is a residential school survivor, and because she wasn't allowed to speak her language at school Ashley didn't learn it growing up. "We weren't allowed to speak our own languages. We weren't allowed to be who we were. We weren't allowed to practise our own ceremonies. My mother grew up thinking the language wasn't that important. She's slowly learning now. She says a prayer every morning in her own language. I'm hoping the community will get involved in creating more language videos," Ashley says.
Why did Ashley decide to participate in the video project? She believes each one of us has the power to make a difference. "Every single person is a superhero. Every single person has a gift to share with the world. I think the most important thing is realizing the gift you can bring to your community," she says.
Through Mission & Service, your generous gifts help repair harm and extend hope. Please support the vital, healing work we do together. We can do much more together than we ever could alone. Thank you!
Use this and other stories found in Your Generosity Matters (formerly Minutes for Mission) to spread the word about Mission & Service.
Downloads