In the far-flung mountain communities of rural Ecuador, ECLOF's financial services help Indigenous people lift themselves out of poverty.
Primary Media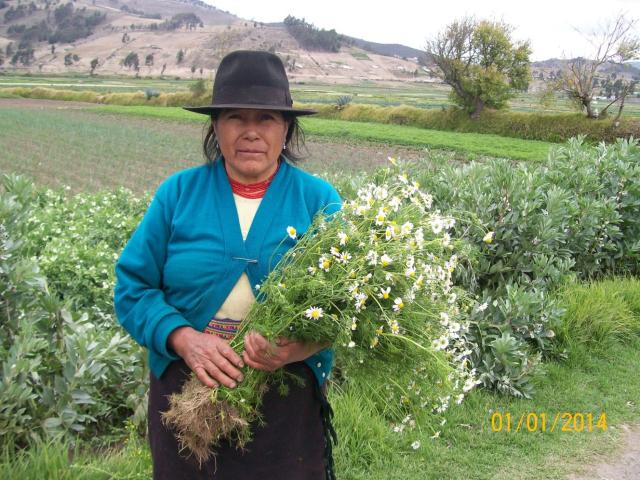 In the Indigenous community of Gatazo Zambrano (located in Chimborazo Province of rural Ecuador), ECLOF International works closely with community members to provide access to financial services.
Credit: ECLOF International
Published On: February 3, 2020
Body
For International Development Week 2020 (February 2–8), the United Church highlights how Mission & Service partner the Ecumenical Church Loan Fund (ECLOF International) is addressing poverty in rural Ecuador.
Chimborazo Province is the second-poorest province in Ecuador, where an estimated 80 percent of residents live below the poverty line. The majority of those living in poverty stem from Indigenous communities of Inca descent. These far-flung mountain communities have limited access to economic opportunities, education, clean water, and health care.
In the Indigenous community of Gatazo Zambrano (located in Chimborazo Province), Mission & Service partner ECLOF International is working closely with community members to provide access to financial services that help people lift themselves out of poverty.
ECLOF started serving these communities 14 years ago. At that time, many community members had no experience in financial management and no loan collateral to offer. But ECLOF stayed and offered on-the-ground service and rigorous loan monitoring.
In order to be eligible for loans, community members first created a legally recognized association called Llankak Runakuna. They used their first ECLOF loans to acquire land for agriculture. Subsequent loans were used to finance seeds, irrigation systems, and small livestock. Over the years, Llankak Runakuna continued to grow, and eventually opened its own processing centre where community members perform quality control, packaging, and shipping functions to market their harvested products in the coastal cities of Ecuador.
In addition to financial services, ECLOF provides ongoing training for association members: 58 people have been trained in financial literacy, community management, and leadership; 26 women have taken workshops on self-esteem building and empowerment. In contrast to other loan providers, ECLOF has recently begun prioritizing loans for young people (for whom it is traditionally difficult to access credit).
From the initial 30 families involved in Llankak Runakuna, 120 families are now directly benefiting from ECLOF's services. Those involved have been able to increase their household income, offering them food security and increased access to education. On average, these families each have three children; the rise in living standards has allowed many of them to send their children to secondary school and even university.
SDG 1: Ending Poverty in All Its Forms, Everywhere
The United Nations states that eradicating poverty is the greatest global challenge and is the cornerstone of sustainable development. People living in extreme poverty are some of the most vulnerable people in the world. They are exposed to conflict and violence and are more affected by natural disasters. Women and children are particularly at risk.
The UN's Sustainable Development Goals (SDGs) provide "a shared blueprint for peace and prosperity for people and the planet, now and into the future." Financial inclusion is an enabler of achieving most other sustainable development goals. Access to financial services has an enormous impact on helping people to lift themselves out of poverty. When poor and low-income people have access these economic resources, they are able to build their own livelihoods and strengthen their resilience to catastrophic events.
For International Development Week 2020, consider how individuals and communities of faith can support the goal of ending poverty. Some ideas are suggested here: