Mission & Service partners help ensure education access and participation for all, especially children and youth in vulnerable settings.
Primary Media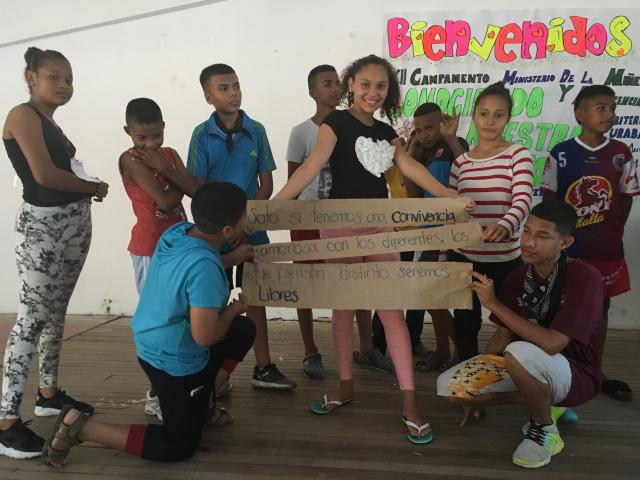 Children and teens participate in the Latin American Centre for Popular Communication's (CEPALC's) arts-based education programs.
Credit: Latin American Centre for Popular Communication (CEPALC)
Published On: February 6, 2020
Body
For International Development Week 2020 (February 2–8), the United Church highlights three Mission & Service partners supporting access to quality education for everyone, especially children and youth.
Access to education for everyone, regardless of income, is an essential part of securing greater justice, broad-based participation in society, and the end of poverty. The United Church, working with global partners, understands education as a basic human right and a critical part of sustainable development.
In Zambia: Making Girls' Lives Count
Women for Change (WfC) works in rural communities in Zambia to create opportunities and support for girls to stay in school.
Poverty, early marriage and teen pregnancy, and the low value placed on education for girls all contribute to high instances of Zambian girls dropping out of school. Additionally, school fees are prohibitively expensive for many people in Zambia.
Bertha Mukonda dreams of becoming one of the top female leaders in Zambia. Her parents supported her schooling up to grade 8; however, Bertha's education was nearly disrupted in grade 9 when her parents divorced and her father moved away, making it difficult for her and her siblings to remain in school. Through WfC's Education Sponsorship program, Bertha is now completing a degree in education at the University of Zambia. 
Bertha says, "Though the spiral of fate seemed not to end, God's hand extended into our family and the sun's rays penetrated the dark cloud… [W]here there was hopelessness, there was hope."
In Colombia: The Possibility of a More Equal World
In war-torn Colombia, children are given a voice through the Latin American Centre for Popular Communication's (CEPALC's) education program. The program brings together Colombian children who live in poverty or have experienced violence for music, theatre, and arts programs that aim to create a culture of social inclusion. Through CEPALC, children explore the possibilities of a more equal world.
Over 15,000 children have participated in CEPALC's programs. In the video above, children describe what they have learned and experienced through CEPALC:
"I can learn how to stand up for women. I learned that we have more rights than we think we do."
—Amelie, age 11
"My life has changed since being in CEPALC because the Luna before was homophobic… they taught me how to be respectful and inclusive."
—Luna, age 12
The arts… allow us to learn so many things. [It's] where we can recreate our thoughts or emotions."
—Arley, age 11
In India: A Few Constructive Suggestions from Tamilarasi
Tamilarasi, 15, lives in the village of Sirukanoor, India and is the eldest of three children. She dreams of continuing her studies and becoming a doctor. Her mother is a widow working in a low-paying job. Since her father has passed away, her uncles make the decisions concerning their household—her family could be forced to leave their house at any time, at the whim of her father's brothers.
"In my village, it's usual for girls to discontinue their studies. They get married at a very young age. My mother also got married at an early age," says Tamilarasi. She describes how a representative from Mission & Service partner the Human Rights Advocacy and Research Foundation (HRARF) came to her school and explained to her about a child's right to stay in school, as well as provided her with school supplies.
"I felt very happy," she said. Still, she had two small suggestions: "Though the five notebooks they provided were not sufficient, they were useful," she said. And: "The school provides two sets of uniforms. If you could provide us an extra set, that'd be useful for us."
India continues to have a caste-based society. People in the lowest castes experience widespread discrimination and are often relegated to low paying, unstable jobs. Families in these castes, many of them headed by women, live below the poverty line. The most basic of school supplies are beyond their means, as are school uniforms and fees.
The school dropout rate for Dalit children living in poverty continues to increase. When HRARF gives school supplies to students living in poverty, they open a conversation about children's rights to refuse marriage, say no to violence, and stay in school. Priority is given to girls, Dalit children, and children of single parents.
SDG 4: Education
The United Nations' Sustainable Development Goals (SDGs) provide "a shared blueprint for peace and prosperity for people and the planet, now and into the future." The work and ministry of many of the church's Mission & Service partners help ensure education access and participation for all, especially marginalized children and youth in vulnerable settings.
For International Development Week 2020, consider how individuals and communities of faith can help support the goal of quality education for all. Some ideas include
supporting your local community's initiatives for homework clubs, school breakfast programs, and afterschool programs. Many United Church community and social justice ministries offer programs to help children and youth succeed in school.
giving through Gifts with Vision to help Mission & Service partners in Canada and across the world provide access to education.