Partners in India describe new challenges arising from the pandemic.
Primary Media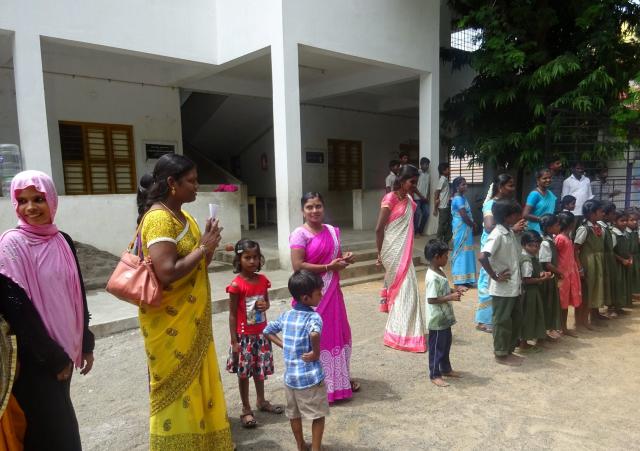 The Human Rights Advocacy and Research Foundation promotes interfaith collaboration in India.
Credit: Japhet Ndhlovu/The United Church of Canada
Published On: May 1, 2020
Body
Coronavirus has heightened tensions among India's 1.3 billion people, especially among Muslims.
In a historic meeting of Mission & Service partners from Southeast Asia and Southern Africa held electronically on April 17, Edwin,* the Managing Director of the Human Rights Advocacy and Research Foundation based in Chennai, India; and Parul Chaudry, the program organizer for the Women's Rights Resource Unit in Astha Sansthan, Udaipur, described the challenges:
"There is anti-Muslim targeting. People are saying the Muslims are doing Corona Jihad," says Edwin. He explains that Muhammad Saad Kadhalvi, the head of a Muslim seminary, has been charged with holding an international conference that, according to authorities, resulted in a jump in coronavirus infections. If found guilty, Kadhalvi could face a 10-year prison sentence. "Everyone at the conference was there legally, and the government was supposed to test everyone. At first no one was blaming anyone, but then once the government and media started blaming, it became a free-for-all against Muslims."
Chaudry adds that anti-Muslim misinformation has spread quickly. "Now, people are wary of Muslim workers…. We fear what will happen to the Muslim community when the lockdown isn't there. We are trying to get factual information across so that people are aware of it rather than rumours."
The number of known coronavirus cases in India has now passed 10,000. Officials have extended the countrywide lockdown until May 3, following the first three-week shutdown.
"The government only gave four days' notice before the first lockdown, which meant chaos. People started rushing to bus stations and railway stations. Migrant labourers were saying they wanted to go home and would rather die at home than in the city but couldn't leave. There have been riots," says Edwin. Disruption in the food supply chain is particularly damaging. "There are vegetables rotting in the fields and no food in the cities. Some are taking bribes for letting the vegetables come in. Prices of vegetables have gone up 50 percent in the last three weeks," he says.
The World Bank reports that economic growth in India and other South Asian countries is likely to be the slowest for four decades this year because of the COVID-19 outbreak. Mission & Service partners are doing what they can to help.
"We have been able to mobilize support for destitute women. We are focusing on supporting single women, migrant workers, and families with disabled members. We are sharing facts and spreading awareness of the need for social distancing. In this truly difficult time, we are realizing the benefits of grassroots organizing," says Chaudry.
Edwin has been actively advocating for the fishing community, acid attack survivors, sexual minorities, and people forced to scavenge: "We are doing what we can to help," he says.
Your gifts through Mission & Service help transform and save lives in Canada and around the world. Thank you!
Learn more about our global partners.
*Edwin prefers to use his first name.