Centre's generosity inspires others to be generous too.
Primary Media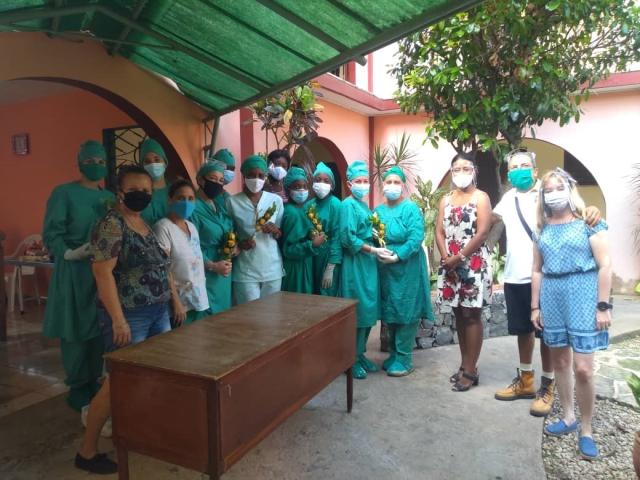 Credit: Christian Centre for Reflection and Dialogue-Cuba
Published On: July 26, 2021
Body
Eleven million people live in Cuba. By mid-July, the country had a staggering average of over 400 confirmed COVID-19 cases per million residents daily, double the world average and more than any other country in the Americas for its size.
Coupled with the continuing and strengthened US economic blockade, Cuba is now experiencing dire economic conditions, and shortages of food and medical supplies. The dramatic surge in cases related to the Delta variant has been felt most acutely in locations such as Cardenas and Matanzas where Mission & Service partners, The Christian Centre for Reflection and Dialogue (CCRD) and the Evangelical Theological Seminary (SET), are located
When hospitals in Cuba were pushed to capacity, both partners moved quickly to convert their buildings to help. Today, both the Christian Centre for Reflection and Dialogue and the Evangelical Theological Seminary are being used as a field hospitals and isolation centers for children and their families who have been exposed to the virus.
At Evangelical Seminary in Matanzas a team of doctors and nurses attend to 120 children and their accompanying parents, as well as other individuals who are suspected of having or are diagnosed with COVID-19. Seminary staff work to support the hospital, including providing food for the hospital on a daily basis.
This generosity in action is also inspiring others to be generous, too.
Local business owners and the public have begun to donate food, transportation, masks, and more to the Christian Centre for Reflection and Dialogue. "In recent days, we have welcomed representatives of different businesses in the city to our institution with special contributions: cake, ice cream, jam, and graphic prints with hopeful messages," says the Centre in a report, calling the groundswell of kindness "gratifying."
Throughout the pandemic, your support through Mission & Service has helped provide vital personal protective equipment, shelter, and food for people in Canada and around the world when they need it most. Now, it is also providing life-saving vaccines.
Thank you for all the ways you are making a difference!
Downloads