"We wondered, would they be able to get out and buy food? Would they be able to remain in contact with their families?"
Primary Media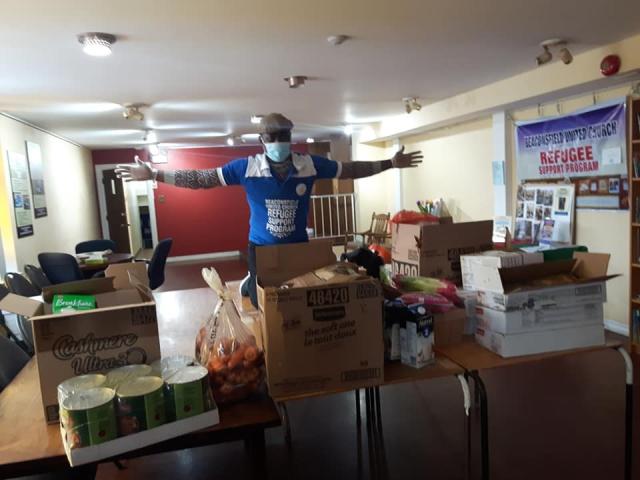 Adedeji, responsible for cultural integration of Nigerian refugees at Beaconsfield United Church, prepares to deliver food to newcomers.
Credit: Beaconsfield United Church
Published On: May 20, 2020
Body
When news of the pandemic struck, congregation members at Beaconsfield United Church in Beaconsfield, Quebec, were immediately concerned about their most vulnerable parishioners, especially newly arrived Nigerian refugees who joined their community of faith.
"We wondered, would they be able to get out and buy food? Would they be able to remain in contact with their families? Then, our Nigerian friends began to lose their jobs at an alarming rate and everyone quickly came together. Food and financial donations poured in. This allowed the staff to quickly assemble care packages that included canned goods, fresh produce, milk, fresh chicken and fish, as well as sanitary products," says Jennifer Forest, the Administrative Program Assistant at the church. Congregants showed their care by delivering familiar food. "Semolina, rice, tomato paste, groundnut oil, and spices brought comfort in an uncertain time. They were delivered on a weekly basis and were tearfully and graciously received by those in need," says Forest.
Beaconsfield United Church received a grant from Embracing the Spirit, a fully Mission & Service‒supported fund set up by the United Church to inspire innovative ministries across the denomination. With help from the fund, Beaconsfield United Church's Nigerian Refugee Integration and Support Program extends belonging and a home away from home for refugees.
"An extremely generous and compassionate church member even made a dozen gift bags filled with crayons and markers, colouring books, and candies that brought joy to isolated children who hadn't seen their friends and teachers in two months," says Forest.
The pandemic hasn't slowed the wider United Church's refugee sponsorship work. "We are still processing cases; it's just travel into Canada that is the challenge. We have submitted a number of cases over the last month, but because of the pandemic, people can't travel to do their visa interviews with immigration officers overseas. The medicals and security checks can't be done. But we continue to submit cases and continue to get approvals," says Khwaka Kukubo, the General Council's Refugee Program Advisor.
Despite the challenges, United Church congregations across the country like Beaconsfield United Church are finding innovative ways to continue to support newcomers. "I know many who are offering virtual language lessons, helping newcomers file taxes, supporting children to do their homework. Congregations continue to do that, but now it's happening online," says Kukubo, "The communities of faith are really committed."
Your gifts through Mission & Service are providing much-needed support in these challenging times through Embracing the Spirit grants. Thank you!
Learn more about Embracing the Spirit and the United Church's refugee sponsorship work.