UN Sustainable Development Goal 13: Climate Action
Primary Media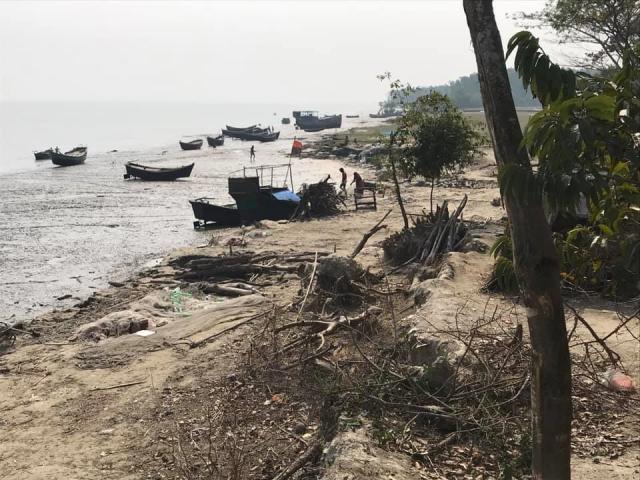 Coastline at Patharghata, Bangladesh
Credit: Japhet Ndhlovu/The United Church of Canada
Published On: February 10, 2021
Body
For International Development Week 2021 (February 7‒13) the United Church highlights how people have had to adapt to climate change, including its impact on the most vulnerable people.
Just before COVID-19 grew to the level of bringing the world to its knees, I had an opportunity in February 2020 to join church leaders from Global Ministries USA and The United Church of Canada on a pilgrimage to Southeast Asia. The team visited Sri Lanka, Bangladesh, and India.
Patharghata is one of the areas most affected by climate change in Bangladesh. People in this area of the eastern seashore face regular cyclones, tidal flooding, rough sea events, riverbank erosion, a lack of safe drinking water, and seawater intruding into the soil and groundwater, which affects agriculture.
The sea has been claiming land and causing people to move to higher ground. However, they cannot go any farther inland because that land belongs to wealthy landlords. Most of these landlords do not live in the area but are proud to own land there, which they use for rice farming―the same rice farming that has been affected by saltwater from tidal flooding. The people who have been displaced consider that area their ancestral lands. The government has provided alternative land very far from away, which would take people away from their fishing activities.
Hurricanes, typhoons, and other climate emergencies have constantly been battering the lands and people of Bangladesh, particularly those people whose livelihoods depend on the coastline and those who farm near the sea. Flooding and landslides have become regular occurrences.
It goes without saying that combatting climate change and its impacts is essential to creating climate justice. Under very difficult circumstances I saw firsthand that the people of Patharghata, with the help of the Christian Commission for Development in Bangladesh, are working hard to create and implement disaster risk reduction strategies.
People in Patharghata have adapted to climate change by raising ducks, which can swim in rising waters.
Credit: Japhet Ndhlovu/The United Church of Canada
One principle of the 2030 Agenda for Sustainable Development is that "no one will be left behind." In the words of the 2030 Agenda, countries will endeavor to "reach the furthest behind first." When the people of Patharghata work to develop climate change mitigation, adaptation, impact reduction, and early warning systems, it is absolutely essential that all parts of the community be part of the process. Every group that is traditionally excluded from decision-making―in those villages and particularly people who have made their livelihoods in fishing as Indigenous peoples, people with disabilities, youth, and all other marginalized groups―everyone must participate in order to create solutions that will be effective, work for everyone, and bring about the desired development.
―Japhet Ndlovu is the Global Partnership Coordinator for Southeast Asia and Southern Africa at The United Church of Canada.