Mount Forest United extends beauty and hope to their community.
Primary Media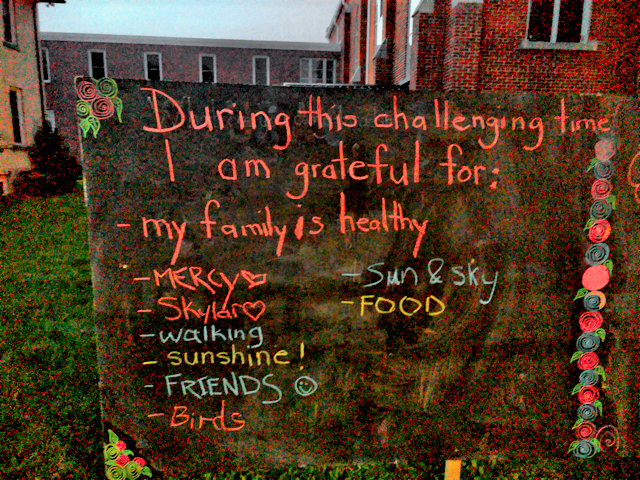 An interactive gratitude installation set up outside Mount Forest United Church.
Credit: Mount Forest United Church
Published On: May 25, 2020
Body
Spring finds many of us rolling up our sleeves to freshen up our gardens and landscapes. But during the COVID-19 pandemic, Mount Forest United in Mount Forest, Ontario, is taking a fresh approach to landscaping. Beyond planting the church's flowerbeds, Mount Forest United considers the outside of their church grounds to be an opportunity to extend beauty and hope to their community.
Through artistic installations, the church is actively sharing the Christian message. On Easter morning, the congregation conveyed the resurrection message of hope by placing a massive cross formed from pots of daffodils on the church steps in front of a purple draped backdrop. On Pentecost, the congregation is planning to illuminate the front of the church with red floodlights.
Other interactive installations invite community participation. For example, to focus on the stewardship value of gratitude, the church placed a large blackboard on their front lawn along with an invitation to anyone passing by to write what they were thankful for on it. "Despite the challenges of this time, they expressed thanksgiving for friends, birds, health, sun and sky, even mercy," says the Rev. Sheryl Spencer, the congregation's minister, adding: "On Mother's Day/Christian Family Sunday, we put a large container of carnations on the church steps with instructions for passersby to take one in celebration."
Mount Forest is also getting creative with their broadcast ministry. For almost 50 years, the congregation has broadcasted worship services with two cable companies and now a radio station. Now, the church is encouraging listeners to consider their own private outdoor space holy ground. "For our May 24 service, we recorded completely outside and included clips from folks explaining how they're finding God in their own backyard," says Spencer.
"Mount Forest has received many Mission & Service–supported Embracing the Spirit grants to support innovative projects," says Carla Leon, who heads Innovation and Special Projects for the EDGE Network for Ministry Development. "We are finding that supporting creative approaches to ministry in one area of the church's life inspires a creative approach in other areas. So one grant can contribute to an innovative approach to ministry overall. Embracing the Spirit isn't just about one project, it's about a culture shift that will create the path of the future. We're seeing that creativity expressed during COVID-19." 
Your gifts through Mission & Service support innovative ministries that make a difference during the COVID-19 pandemic. Thank you!
Learn more about Embracing the Spirit.