"I think that post pandemic, camp will be very important in recovery from isolation."
Primary Media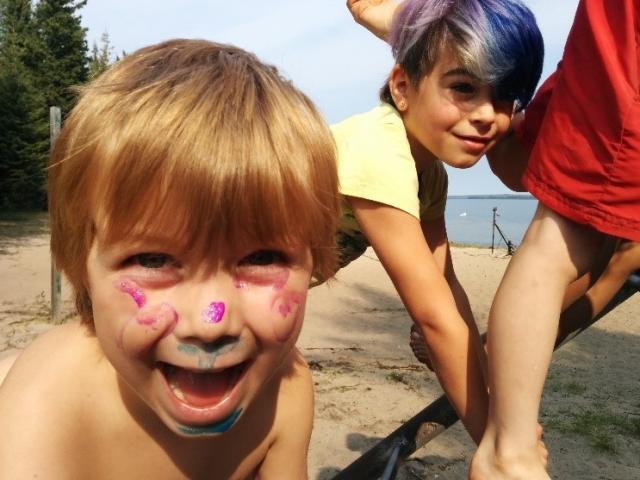 Your generosity brings Noah pure joy at Camp Caterpillar, a camp for LGBTQIA2S+ children, youth, and their siblings.
Credit: Camp Caterpillar/Camp Tapawingo, SK
Published On: May 13, 2020
Body
While physical distancing protocols are forcing United Church camps to consider closing their cabins this summer, some are preparing to offer a different kind of camp experience.
"Camp Abby, Sherbrooke Lake Camp, Camp TaWaSi, and Camp Kidston are all part of a network here in the Maritimes that are working on a project called Camp in a Box. Boxes will be sent to campers and will contain daily activities from friendship bracelets to faith exploration to songs that will be supported by camp staff," says Catherine Tamara Stuart, Eastern Regions' Minister for Children, Youth and Young Adults.
Mission & Service donations support approximately 25 United Church camps across the country, nearly half of the camps that are affiliated with the United Church. Overall, approximately 20,000 children attend a United Church camp each year.
On May 6, 2020, Moderator Richard Bott and General Secretary Nora Sanders hosted a meeting with 61 representatives from 35 United Church camping ministries. "From virtual campfires, online vespers, live and recorded video messages from staff to campers, and camper pen-pal mailing using Canada Post, to virtual camp, camp-in-a-box, and camp-on-wheels, these inspiring and passionate folk are faithfully serving their local communities," writes Jordan Sullivan in a news report, adding that many camps will use the season to tackle much-needed maintenance and property issues.
Even though the pandemic has forced some camps to close or to offer programming differently this year, Catherine Stuart predicts that when the COVID-19 crisis is over, camps will play an important role in recovery: offering employment to students, giving parents a break, and providing a space where young people can disconnect from their screens and reconnect outdoors.
"I think that post pandemic, camp will be very important in recovery from isolation. It will hopefully provide space where kids and youth can be themselves while also being outside. Understanding our relationship to creation is critical, and I think camps have a place in children and youth discovering that," says Stuart.
Your Mission & Service contributions support safe, welcoming, fun, creative, inspiring, faith-filled, relationship-based communities in United Church camps. Thank you!
Learn more about United Church camps.