Ecumenical response supports Amity's efforts.
Primary Media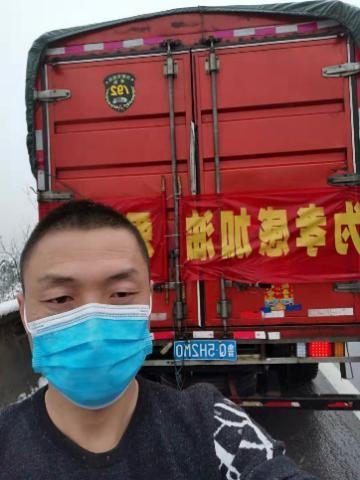 Yan Li took this selfie in front of his truck the day he delivered supplies to Hubei.
Credit: Yan Li/Amity Foundation
Published On: May 4, 2020
Body
Normally, driving to Wuhan to make a delivery is no big deal. But on January 27, truck driver Yan Li was on his way to deliver 10 tons of disinfectant from Mission & Service partner the Amity Foundation to the epicentre of the COVID-19 outbreak in Hubei Province.
It was snowing that day, and Li recalls calming himself by humming along to a popular Chinese song on his radio: "Dad and Mom, please take care of yourselves. Don't let me worry. I will definitely go back home this spring festival..."
But Li's family was understandably concerned. "They are worried about me. Who would like their family to go to the epicentre? But the disinfectant could be used to protect so many people. I think it's worth it. We Chinese always help each other in times of crisis," says Li.
Li is one of many truck drivers who delivered supplies made available through donations from The United Church of Canada and other partners through the Amity Foundation, a social welfare charity in China. It was founded by Protestant Christians in 1985, with a mandate to work in the country's poorest regions.
The United Church was part of an ecumenical response early in the new year to support Amity's efforts to supply remote areas of the country with needed personal protective equipment (PPE) in January, before the full extent of the outbreak was known. By the end of March, Amity had delivered in China an incredibly wide range of essential supplies and PPE, including some 477 tons of disinfectant like that contained in Li's vehicle.
Now, the Amity Foundation is giving back, sending personal protective equipment from China to other parts of the world struck by the virus, including Europe and southeast Asia.
"We have successfully shipped supplies to many countries, but getting clearance is a big hassle. Unfortunately, new quality and verification policies makes it very difficult to get the export clearance to send the equipment," says Martin Lachmann, a communications officer for the Amity Foundation. Still, the Amity Foundation has successfully jumped through administrative hoops, purchasing, packing and sending tons of quality equipment from China to communities across the globe; thankfully, heroic truck drivers like Yan Li the world over are risking their lives to make sure they get where they are needed most.
Your gifts through Mission & Service mean that people around the world struggling under the strain of COVID-19 are supported through organizations like the Amity Foundation. Thank you!
Learn more about how United Church partners in China are responding to COVID-19.