Thank you for giving good ideas a chance to fly.
Primary Media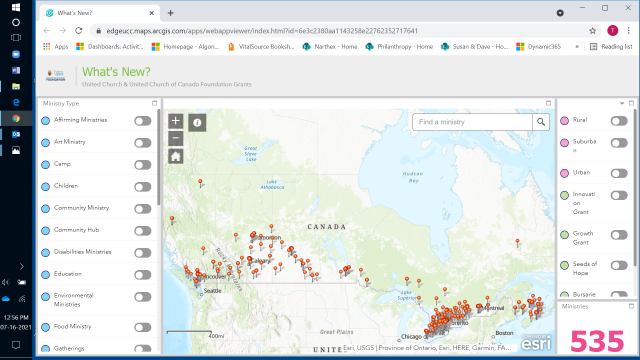 Credit: Embracing the Spirit/The United Church of Canada
Published On: July 26, 2021
Body
There is no doubt that the church is in the midst of a radical transition. What does the future hold?
Honestly, no one knows for certain. But one thing is sure: The best way to fail is to try nothing, and the only way to succeed is to experiment by doing something new.
That's where you come in. Your gifts through Mission & Service support innovation through our church's Embracing the Spirit grants. Embracing the Spirit is a grant program supported by Mission & Service. Any church called by God to pursue a great ministry idea can apply to Embracing the Spirit for funding support.
In the bottom right corner of the interactive Embracing the Spirit online map, the number 535 is highlighted in bold red. The number, which refers to new ministry projects awarded grants, is steadily rising―535 is the tip of the iceberg. Since 2016, Embracing the Spirit has awarded over $3,600,000 to help communities of faith develop new ministries.
Want to be inspired? Simply click one of the map pins and read the description. You will be amazed at the new ways congregations across the United Church are joining God's mission. Take it a step further and connect with one that piques your interest. Learn about ways your community of faith can grow its vision and practice of ministry.
The last Embracing the Spirit granting round of 2021 is open now, and applications are due on October 15. Even if you don't have a new ministry idea you want to pursue right now, by simply making a Mission & Service gift you are helping our United Church network with and support others striving to live out God's mission in new ways.
Thank you for giving good ideas a chance to fly.
Downloads