Remember and name historic and contemporary truths so that work can continue towards reconciliation and justice.
Primary Media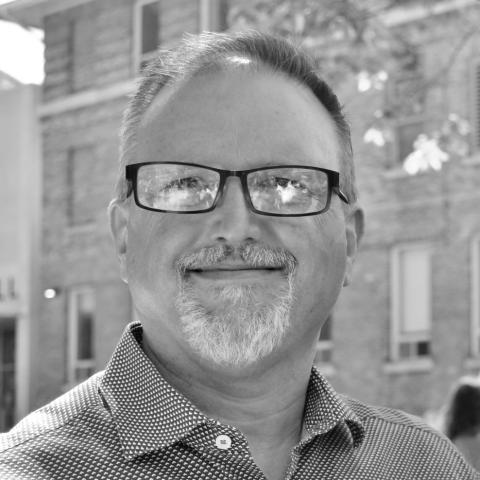 Craig Miller
Published On: November 17, 2022
Body
Learning 
In 2016 our former presbytery introduced the Brandon Residential School Mobile Learning Centre. The school, located just outside of Brandon, Manitoba, operated from 1895 to 1972 and was one of 13 residential schools under the management of The United Church of Canada.  
The Learning Centre is a local response to the Truth and Reconciliation Commission's (TRC) Call to Action #59, which calls on churches to educate communities about the effects of colonization and the history and legacy of residential schools. Through this centre we remember the history and ongoing legacy of colonialism and residential schools, that there may be sharing, mourning, healing, and transformation. 
When we make presentations about this history and its impact on survivors and their families, we frequently meet significant resistance from non-Indigenous peoples. At one event, a retired social worker from BC stood and pointed her finger at the co-presenter, an Indigenous professor on the organizing committee. "You lie!" the woman challenged.  
More recently, since the widely-publicized news from Kamloops and other communities about unmarked burial sites at residential institutions, we've seen a shift and a deeper understanding and awareness among non-Indigenous peoples about the trauma that these institutions have caused. Even so, it still is far too common to hear non-Indigenous Canadians say things like, "All of this happened in the past; we need to move on." And, "We can't do anything to change what happened back then, so why do we keep dwelling on ancient history. It is water under the bridge, and it just brings more pain if we keep talking about it." Or, "Why don't you share the positive outcomes that resulted from the relationship between teachers and students?" These comments reflect White supremacist culture in action.  
Leaders in conflict transformation remind us that the in any conflict, the people who hold power and privilege—whether on a national scale or in more personal matters—are always ready to move on more quickly than the people who have experienced oppression, especially those who face the constant reminder of the past. 
Indigenous presenters and survivors often remind non-Indigenous peoples that they are not sharing their stories for other people to feel guilty. The goal of these educational events is to remember and name historic and contemporary truths so that work can continue towards reconciliation and justice. In the history of this land, Indigenous families have been subject to abuse, colonization, alienation, and trauma.  In this endeavor, it is helpful for me—as well as all non-Indigenous people—to locate ourselves in the history of the program of colonization.  
One approach that I have found helpful is naming this evil as sin.  
While the sins of the past may not be our own, most of us non-Indigenous peoples benefit from the system that perpetrated this social evil. Non-Indigenous Canadians benefit from the land, resources, and wealth generated by this racist system. Non-Indigenous peoples benefit from the privileges gained in this systemic program of colonization and assimilation. And we, as non-Indigenous peoples, have a moral obligation to address the impact of colonization on the health and well-being of our communities. 
Faith Reflection 
The Christian Testament was written during a time of great upheaval. The previous centuries had seen an enormous fusion of peoples and cultures, along with the forced use of a common language and common government. There were sharp divisions between enslaved people and free, Roman citizens and non-citizens, pagans and other religions, and different genders and sexes in the Roman Empire.  
In this context, the writers implore the community of Jesus to live boldly with love for G_d and their kin. They are particularly invited to consider the power imbalances among them: between people who were citizens and non-citizens, people who were free and enslaved, and people who were male and female. What does justice look like among people who hold power and privilege differently based on their identities? 
According to scholar Cornel West, justice is what love looks like in public. And reconciliation with G_d and our neighbours is key to this call.  
Action 
Read the summary report of the Truth and Reconciliation Commission of Canada. It defines reconciliation as establishing and maintaining a mutually respectful relationship between Indigenous and non-Indigenous peoples in this country. Reconciliation requires awareness of the past, acknowledgement of the harm inflicted, atonement for the causes, and action to change behaviour. You may also consider reading the United Church's response. 
Learn about a residential school in your area and review the history of United Church involvement. After the review, consider using some of the church's resources to practice reconciliation and work for Indigenous justice and donating to the Healing Fund.  
Consider assisting your community of faith in working through a 12-step program for decolonization and indigenization, like the one proposed by Joyce Green and Michael Burton.
Craig Miller (he/him) lives and works on Treaty Two lands, the traditional lands of the Anishinaabe, Dakota (Sioux), and Métis Peoples, in Brandon, Manitoba. He is an ordained minister, and moved to Canada as a settler from the US with his Canadian partner in 2007.