Day 1: The author shares her personal journey with internalized racism.
Primary Media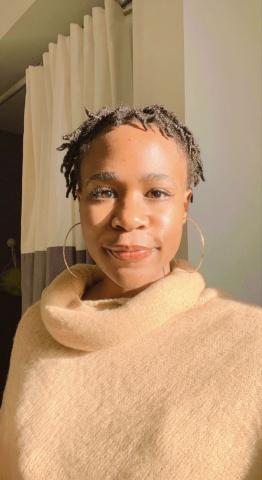 Jonisha Lewinson
Published On: October 6, 2022
Body
Learning 
For my eighth birthday, I asked for a Barbie cake—one of those cakes that was shaped like a dress, with a real Barbie in the middle. As I sat at the table, with everyone singing "Happy Birthday" off key, I closed my eyes and pictured an elegant, baby-pink, chocolate-flavoured, soft sponge Barbie cake. But when I opened my eyes, I was disappointed to find that the Barbie in the cake was not White, but Black. Tears swelled in my eyes as my family looked at me in horror. They tried to comfort me as I wailed, asking me what was wrong. I mumbled, "I-I wan-wanted the W-W-White Barbie! The-the Black one is u-ugly!" The room went dead silent. My parents looked at each other, completely shocked. Eventually, my mother, with a grim expression on her face, placed the doll aside and said, "Let's just enjoy the cake, okay sweets?" 
A few years ago, I found that same Black doll. Her hair had been chopped off, her face had been drawn on, and her nails had been cut off. I remembered the times that I played with her; she was always the outcast, the ugly one, the "extra" at one of the "real" Barbie's parties. She was treated as the other. But more than that, she reflected how I saw my own Black self. 
I grew up watching shows that usually featured White characters. The rare Black character was treated as comic relief. When I walked into toy stores, I'd gaze at a wall full of White dolls. The few darker-skinned, White-passing dolls were at the bottom of the shelf. The environment I was raised in conditioned me to believe that I was the "extra" in life; I was never going to be the main character. Because of this type of thinking, I hated myself. I wanted to be the star of the show, and according to the world I was living in, the only way to do that was to be White. 
Faith Reflection 
In high school, I recognized that I was struggling with internalized racism. Once I discovered what internalized racism was, I did everything in my power to reverse my way of thinking. I had to start with me; I needed to see myself in a light that was not projecting Black stereotypes. So where did I start? I started with this verse from the Bible: 
"'You shall love the Lord your God with all your heart, and with all your soul, and with all your mind.' This is the greatest and first commandment. And the second is like it: 'You shall love your neighbor as yourself.'" Matthew 22:37-39 
When people read this verse, they read it as, "I need to treat others with the same love that I give to myself." I flipped it around. I treated everyone but myself with kindness, care, and love. I thought I was ugly and incapable of attaining love. This verse reminded me that I must love myself the way that I love those who are different to me. Over time, I started to feel comfortable in my skin. I didn't feel the need to hide my natural hair anymore; I began to embrace my chunkier physique. I truly began to love myself. How might you reflect further on this verse in relation to racism? 
Action 
One thing that aided me in my journey was the exploration of spaces that view Black people in a positive light. Find spaces that celebrate your culture and your identity: a community you identify with, watching a movie/TV show highlighting someone that looks like you, or resources that reflect you—the possibilities are endless. Remind yourself every day that God made you in His image and that he sees and loves you as you are. 
Jonisha Lewinson (she/her) is a fourth-year student at Sheridan College studying Creative Writing and Publishing. She has worked with the United Church of Canada on a few projects over the past couple of years, and was a summer student in 2022. She enjoys writing, drawing, and crafts, and currently attends North Bramalea United Church.