Encourage governments to embody the UN Declaration on the Rights of Indigenous Peoples in their relationships with Indigenous Peoples.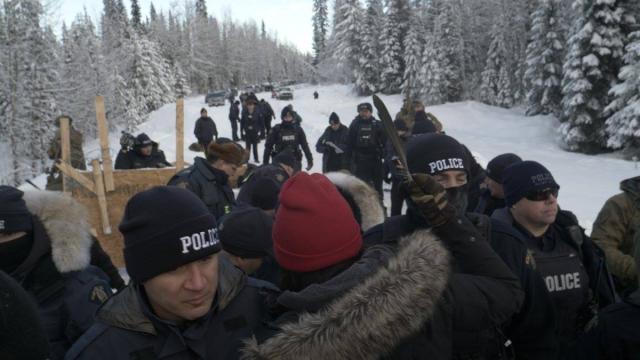 RCMP officers on Wet'suwet'en traditional territory
Credit: Michael Toleando
Until this country is willing to listen to their own Supreme Court and recognize hereditary rights and title, these unresolved issues will continue to end in confrontation. The only way forward is for government and industry to follow the principles of UNDRIP and to work with both hereditary and elected leadership. But as long as they are willing to resort to force instead of diplomacy, we haven't even begun to engage in meaningful reconciliation.
—Cary Newman[1]
In late 2018, conflict over who has the right to make decisions about energy projects on traditional Indigenous territories reverberated across the country from the locus point of Wet'suwet'en territory in northern British Columbia. 
On December 14, 2018, the Supreme Court of British Columbia issued an injunction ordering Wet'suwet'en hereditary chiefs and supporters to cease denying Coastal GasLine (CGL) access to their territory. CGL plans to build a liquefied natural gas pipeline through Wet'suwet'en traditional territory.
While Wet'suwet'en First Nation had given its approval to the CGL project, the hereditary chiefs of its five clans had not. Under the terms of the Indian Act, Chief and Council have jurisdiction only over lands on reserve—not on the entirety of the traditional territory. Citing the UN Declaration on the Rights of Indigenous Peoples, the hereditary chiefs maintained that their right to free, prior, and informed consent was not being honoured.
On January 7, 2019, the RCMP, highly armed and in tactical gear, moved in to take down the barricades and arrested 14 demonstrators. Indigenous leaders across the country questioned how such action could be squared with Prime Minister Trudeau's frequently quoted statement that no relationship is more important to his government than that between Indigenous and non-Indigenous peoples. A letter from Moderator Richard Bott was one of many solidarity actions by Indigenous and non-Indigenous peoples across the country. 
After several days of negotiation, the hereditary chiefs reached an agreement with the RCMP to give CGL what Tsayu Clan Chief Namoks called "soft access" to the territory. The hereditary chiefs have made it clear that their agreement is with the RCMP; it is not an agreement with CGL to allow pipeline development.[2]
A year later, the Supreme Court issued another injunction, and the RCMP established an "access control checkpoint" on Wet'suwet'en territory, which Wet'suwet'en land defenders resisted. The chiefs have asked for a meeting with BC Premier John Horgan, but this has yet not been granted. This is of particular concern given the BC legislature's recent passage of Bill 41 to harmonize all provincial law with the UN Declaration on the Rights of Indigenous Peoples.
Solidarity actions once again broke out across the country. In Victoria, a group of Indigenous youth and others occupied government offices. Our partner KAIROs has issued this statement of support.
The ongoing situation on Wet'suwet'en territory reveals, at many levels, how settler society fails to understand and accept the Indigenous right to self-determination. It demonstrates an acceptance of unbalanced power relationships, and calls into question Canada's commitment to reconciliation with Indigenous peoples.
How we, as a country, respond to development issues on unceded and treaty lands will speak volumes about our commitment to reconciliation, to living together as settler and Indigenous peoples in Canada. As Moderator Richard Bott has written in his prayer for Wet'suwet'en, "We speak, God of all Creation—but are they just pretty words?" He urges us to "open our hearts with truth to the fact that these actions give lie to our words."
The United Church of Canada is committed to the UN Declaration on the Rights of Indigenous Peoples, which holds that Indigenous Peoples have the right to free, prior, and informed consent before any development occurs on their territory. We believe this must be fully respected on Wet'suwet'en land, and on all Indigenous territory in Canada.
Notes
1. CBC News, January 11, 2019.
2. The Star Vancouver, January 9, 2019; January 10, 2019.
What Can You Do?
Not just in the Wet'suwet'en case but in all cases where economic development comes into conflict with Indigenous peoples' rights to self-determination and to free, prior, and informed consent, please take the time to:
THINK about the situation. Are all the voices that should be heard being heard? Are we seeking solutions through structures imposed on Indigenous Peoples by settler governments, or are we supporting self-determination?
PRAY for resolutions that are achieved peacefully, and are life-affirming. You can begin with the Moderator's Prayer for Wet'suwet'en First Nation.
ACT to encourage governments to embody the UN Declaration on the Rights of Indigenous Peoples in their relationships with Indigenous Peoples. Contact the Prime Minister, Minister of Crown-Indigenous Relations, and Premier of British Columbia asking them to honour UNDRIP. Ask the Premier to met with the hereditary chiefs. Please also cc Reconciliation and Indigenous Justice Animator Sara Stratton.
Send your letters and e-mails to:
The Honourable John Horgan
Premier of British Columbia
West Annex Parliament Buildings
Victoria, BC  V8V 1X4
premier@gov.bc.ca
The Right Honourable Justin Trudeau
Prime Minister of Canada
House of Commons
Ottawa, ON  K1A 0A6
pm@pm.gc.ca
The Honourable Carolyn Bennett
Minister of Crown-Indigenous Relations
House of Commons
Ottawa, ON  K1A 0A6
aadnc.minister.aandc@canada.ca
Send copies of your letters and e-mails to:
Christie Neufeldt
Global Partnership Program Coordinator
cneufeldt@united-church.ca
416-231-7680 x4078
1-800-268-3781 x4078
Downloads