We are accepting donations to support United Nations refugee agency's campaign to protect the rights and dignity of Palestinian refugees.
Donate Now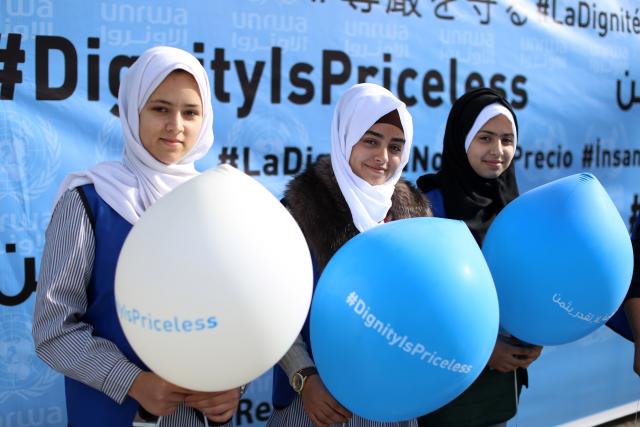 Palestinian girls at the launch of the #DignityIsPriceless campaign.
Credit: Rushdi Sarraj/UNRWA 2018
You are invited to join a global campaign, #DignityIsPriceless, which seeks to uphold the rights and dignity of Palestinian refugees in light of dramatic reductions to the funding of the United Nations Relief and Works Agency for Palestine Refugees in the Near East (UNRWA) recently announced by the United States. Thank you for your prayers, advocacy, and donations.
Donate Now
Online via our secure donation page.
Phone 416-231-5931 or toll-free 1-800-268-3781 ext. 2738 and use your Visa or MasterCard.
Send a cheque, money order, or Visa or MasterCard information with donation amount to:
Note: As part of the United Church's Emergency Response Fund, 100% of your donation goes directly to emergency relief with 85% of your donation responding to this designated emergency and 15% responding to future emergencies that do not receive intense media coverage. Donations to Mission & Service enable the United Church to cover all of the costs of emergency response work without deducting any fees from your donation.
Updates