Ask the Canadian government to intervene with the Israeli government.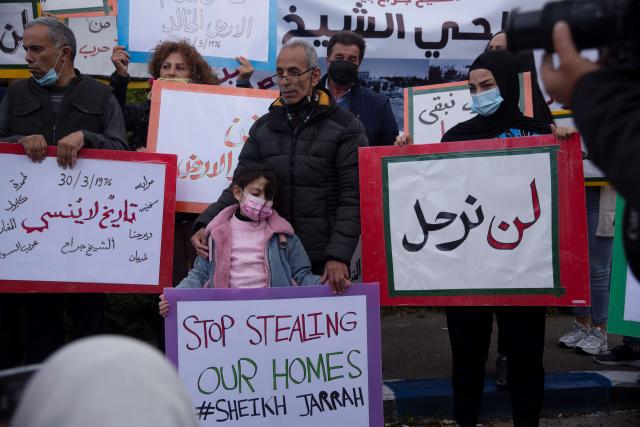 People hold a vigil to mark Land Day in the Sheikh Jarrah district, where Palestinians are under threat of eviction from their homes, in Jerusalem, March 30, 2021.
Credit: AP Photo/Maya Alleruzzo
The Israeli government plans to evict 195 people in 15 families from their homes in East Jerusalem on May 2, 2021. Two settler organizations are behind these specific evictions, which are illegal under international law and according to Canadian policy regarding the illegal annexation of East Jerusalem. As time is of the essence, church members are asked to respond as quickly as possible by sending a letter opposing the evictions to Foreign Affairs Minister the Hon. Marc Garneau and their own Member of Parliament.
Please add your voice to those of church leaders in Canada who have already signed a letter asking the Canadian government to demand the Israeli government stop these evictions. These evictions are in violation of the 4th Geneva Convention, Part III, Section III, which guarantees the protection of peoples in occupied territories. East Jerusalem is the traditional home of many Palestinians and since 1967 remains occupied by the Israeli Defence Forces after the Six-Day War. According to Mission & Service partner B'Tselem, this is not an isolated case, and one that is increasing as the Israeli government seeks to extend full political control and resettle East Jerusalem with Israeli settlers, displacing Palestinians.
Take Action
Call or write to Global Affairs Minister the Hon. Marc Garneau and your MP, and ask them to seize this moment and intervene with the Israeli government to stop these evictions and to demand that the Canadian government

publicly condemn the evictions from, and demolitions of, Palestinian homes in East Jerusalem, and call on Israel to immediately reverse the rulings on the intended evictions and halt its settlements policy
live up to its obligations and commitments to protect and promote human rights and international law without exception;
together with the international community, denounce this impunity and the ongoing human rights violations.

You can write your own letter or personalize the e-mail template below. Minister Garneau's email is Marc.Garneau@international.gc.ca. Please cc  takeaction@united-church.ca and your own member of Parliament. You can find your MP's contact information by entering your postal code on the Parliament of Canada website. Multiply your efforts by sharing with 10 friends and encourage them to write their own.

Join the United Church e-mail network, United Network for Peace and Justice in Palestine and Israel, to receive updates and opportunities to connect with others.
Connect with United Church partner Kairos Palestine in Israel for the latest information on the ongoing struggle of Palestinians in the occupied territories. [other partners?]
Also support ongoing efforts to prevent child detention and unjust treatment in Palestine through No Way to Treat a Child.
Share your support on social media using the hashtags #SheikhJarrah, #Silwan #EastJerusalem
Downloads