Signature Campaign continues to 70th Anniversary of Armistice: July 27, 2023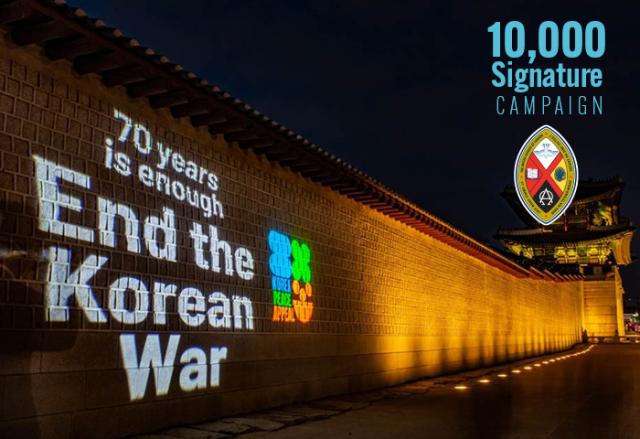 Korea Peace Appeal: End the Korean War
God of wonder,
Comfort those who have been suffering from the division by foreign powers for over 70 years.
We ask you to restore the broken Korean Peninsula.

—from Prayer for the End to the Korean War and Peace on the Korean Peninsula by Dr. Un Sunn Lee
The Korean War is not over. The Korean War Armistice was signed on July 27, 1953, after three years of war, destruction, and terrible suffering. The Armistice signalled an agreed ceasefire—defined as "a temporary suspension of fighting, usually one during which peace talks take place."
Seventy years later, a peace treaty has not yet been established. For more than seven decades the Korean people have endured a constant state of hostility and war, which has solidified the division of the peninsula.
The Korea Peace Appeal is a global campaign that seeks to collect 100 million signatures by July 27, 2023. The three-year campaign that began in July 2020 will culminate with the 70th anniversary of the armistice.
Ten Thousand Signature Campaign
The National Council of Churches in Korea challenged The United Church of Canada to join the Korea Peace Appeal and add Ten Thousand Signatures.
Join with Korean partners and more than 370 South Korean civil society organizations, religious groups, and international partner organizations that are calling to end the Korean War and conclude a peace treaty. In adding your signature to the petition, you are saying:
End the Korean War and establish a peace agreement.
Create a Korean Peninsula and a world free from nuclear weapons and nuclear threat.
Resolve the conflict with dialogue and cooperation instead of sanctions and pressure.
Break from the vicious cycle of the arms race and invest in human security and environmental sustainability.
Support the Korea Peace Appeal—Sign Now
Pray
Pray for Korean partners and the Korean people as they work toward unity, and engage your community of faith. Use these resources or create your own:
Share
Share your support on social media using the hashtags #EndtheKoreanWar #KoreaPeaceAppeal #signature #peace #UCCanKoreaPeaceAppeal