Despite the dangers of COVID-19, the number of Palestinian children in Israeli military detention has increased. Call for their release.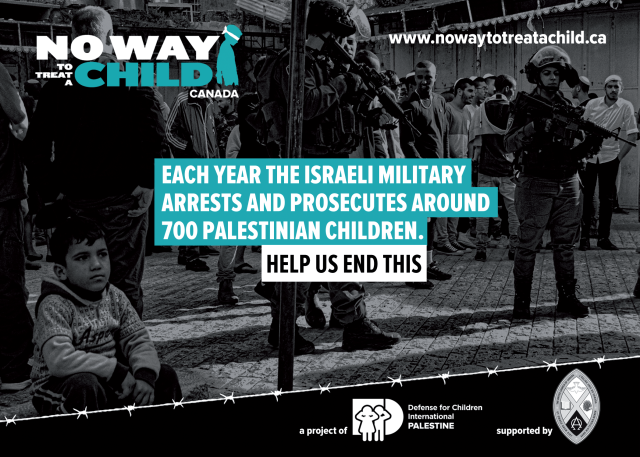 Credit: Defense for Children International – Palestine
Jesus said, "Let the little children come to me, and do not stop them; for it is to such as these that the kingdom of heaven belongs."
Matthew 19.14
Israel has the dubious distinction of being the only country in the world that systematically prosecutes around 700 children each year in military courts lacking fundamental fair trial rights. From the moment of arrest, Palestinian children encounter ill treatment and torture at the hands of Israeli forces. Three out of four experience physical violence during arrest or interrogation.
Despite the COVID-19 pandemic and widespread calls to decrease the number of people in custodial detention globally, the number of Palestinian child detainees in Israeli prisons and detention centres has increased since January 2020. Palestinian children imprisoned by Israeli authorities live in close proximity to each other, often in compromised sanitary conditions. They also have limited access to resources to maintain minimum hygiene routines, reports United Church partner Defense for Children International Palestine (DCIP).
Take Action
Sign your name to the petition Release All Palestinian Child Detainees Amid COVID-19 Pandemic and join thousands of others who have demanded that Israel release all child prisoners.
Contact your member of Parliament to ask that they add their to this open letter raising concern about the ill-treatment of Palestinian children detained by Israeli forces. Find your MP on the Government of Canada website.
Share this Take Action on your social media networks. Use the hashtags #UCCan and #NWTTAC.
Engage with the Brave Spaces workshop resources developed for United Church activists, educators, and advocates who wish to work in support of Palestinian children and their families living under occupation. For more information, visit Brave Spaces for Talking about Palestinian Children's Rights.
Background
The No Way to Treat a Child campaign seeks to challenge and end Israel's violation of the United Nations Convention on the Rights of the Child and the prolonged military occupation of Palestinians by exposing widespread and systematic ill-treatment of Palestinian children in the Israeli military detention system. DCIP and The United Church of Canada remain committed to working toward a just future for Palestinian children in the occupied territories. Like all children, Palestinian children have the right to a safe and just future. Not only during this crucial time when many vulnerable children remain exposed to risks related to COVID-19, but indefinitely. 
Palestinian children in the West Bank, like adults, face arrest, prosecution, and imprisonment under an Israeli military detention system that denies them basic rights. Since 1967, Israel has operated two separate legal systems in the same territory. In the occupied West Bank, Israeli settlers are subject to the civilian and criminal legal system whereas Palestinians live under military law. Israel applies civilian criminal law to Palestinian children in East Jerusalem. No Israeli child comes into contact with the military courts.
DCIP collected affidavits from 429 West Bank children detained between 2012 and 2015 that show three-quarters of them endured some form of physical violence following arrest. In 97 percent of the cases, children had no parent present during the interrogation and had no access to legal counsel. Israeli police also did not properly inform them of their rights in 84 percent of the cases.
As of March 31, 2020, 194 Palestinian children were detained in Israeli prisons and detention centers, an increase of six percent from January, according to data released by the Israel Prison Service (IPS). IPS numbers from a headcount on March 31 show that only 28 percent of Palestinian children in IPS custody were serving sentences; over 60 percent (117 out of 194) of Palestinian child detainees were held in pre-trial custodial detention.
Globally, the World Health Organization, the Office of the United Nations High Commissioner for Human Rights, and UN human rights experts have all issued guidelines and statements highlighting the need to prevent the spread of COVID-19 in detention settings. UNICEF Executive Director Henrietta Fore issued a statement on April 13, 2020 highlighting that children in detention are at heightened risk of contracting COVID-19 and should be released. UNICEF has also called for an immediate moratorium on new admissions of children to detention facilities.
"Israeli authorities must release all Palestinian child prisoners immediately," said Ayed Abu Eqtaish, Accountability Program Director at DCIP. "The fact that Israeli forces continue to detain Palestinian children and hold the overwhelming majority in pretrial detention is unconscionable given the increased risk presented by COVID-19 to people deprived of their liberty."
The United Church and its global partners have a history of defending children's rights. In 1990, the United Church called on the Canadian government to ratify the UN Convention on the Rights of the Child. 
The United Church of Canada works with others seeking peace with justice in Israel and Palestine. This work is rooted in the gospel mandate to be peacemakers and in response to the calls of Palestinian and Israeli partners. Violent acts such as the killing of both Palestinian and Israeli civilians, use of excessive force by Israeli police and army against protesters, extrajudicial killings, and collective punishment are obstacles to a just and lasting peace. The United Church of Canada has identified the occupation as a major contributor to the injustice that underlies the violence in the region, and is encouraging its members to take a range of actions including the No Way to Treat a Child Campaign to support the end of the occupation.
For more information on the issues and recommendations of the campaign, visit the campaign website.
For more information contact:
Christie Neufeldt
Global Partnership Program Coordinator
cneufeldt@united-church.ca
416-231-7680 x4078
1-800-268-3781 x4078