Communities negatively affected by the overseas operations of Canadian companies are waiting for justice.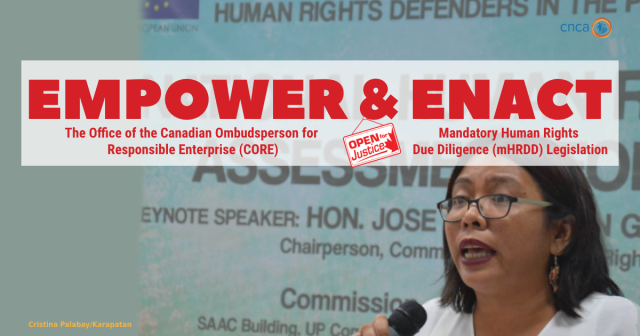 Human rights defender Cristina Palabay of KARAPATAN Alliance speaks out for those harmed by the overseas operations of companies in the Philippines.
Credit: Canadian Network on Corporate Accountability
As people of faith we affirmed that we live with respect in creation, that "we cherish and respect the diversity of life and celebrate the beauty of the Earth. For us as members of one family, love and caring are the basis of our relationships with one another and with nature." (One Earth Community, 1992)
For well over a decade, United Church people have been aware of the widespread and credible allegations that Canadian companies are linked to serious human rights abuses overseas. United Church partners call us to respond to the grave injustices faced—environmental degradation, extrajudicial killings, incarceration, militarization, and intimidation of community leaders opposed to government policy. The United Church, as a member of the Canadian Network on Corporate Accountability (CNCA), was greatly encouraged by the Minister of International Trade's announcement in January 2018 regarding the creation of a Canadian Ombudsperson for Responsible Business Enterprise (CORE), the first of its kind in the world.
Since then, it has become clear that Canada missed the opportunity to create an independent office equipped with real powers to investigate abuses and redress the harm caused by Canadian companies operating abroad.
The CNCA has launched a parliamentary e-petition demanding that the federal government strengthen rules for businesses and uphold human rights in the mining, energy, and garment sectors. This includes empowering the ombudsperson with independence and the power to investigate human rights abuse allegations, as well as mandatory human rights due diligence (mHRDD) legislation. This legislation would compel Canadian businesses to respect current international human rights standards across their global operations and hold them liable for harm caused by or on behalf of their operations.
Call on Canada to show global leadership.
Take Action
1. Sign the parliamentary e-petition urging the Canadian government to
give the ombudsperson independence and the power to investigate complaints against Canadian corporations overseas
enact a law that requires Canadian corporations to respect international human rights standards and holds them accountable when harm is caused by their operations
2. Take the Empower and Enact social media challenge for Canadians! A toolkit with more details is available under Downloads, below.
After you sign the e-petition, tag five friends on social media and ask them to sign it. Tag your local member of Parliament, too. Use the hashtags #UCCan, #open4justice, #ombuds, #power2investigate, #HumanRights, and #CAN4mHRDD.
3. Connect with your MP and set up a virtual meeting. Tweet, call, or send a letter to your MP and let them know we need their action to compel Canadian mining, energy and garment companies to respect human rights worldwide. You can find your Member of Parliament's contact information by entering your postal code on the Parliament of Canada website.
Background
Since 2015, United Church people across the country have been calling on the Canadian government to protect the dignity of human life and the sacredness of creation by creating an independent human rights ombudsperson with the power to hold Canadian mining companies responsible for their overseas operations. They have met with, called, and written to their members of Parliament and the minister of trade. They have done this in response to United Church partners who have also clearly called for the creation of the ombudsperson.
A United Church partner in the Philippines, writing to Prime Minister Trudeau, stated: "The creation of the new ombudsperson office is important not only for our organization, but for indigenous peoples and other communities affected by Canadian mining projects in the country, in bringing the human—and indigenous peoples'—rights violations committed to the attention of the Canadian government."
A June 14, 2019 letter from the United Church to Minister of International Trade Diversification Jim Carr states that CORE's current mandate "betrays your government's commitment to responsible business conduct in light of serious and abundant abuse allegations and disregards Canada's international obligations to uphold and promote human rights including the obligation to provide effective remedy for victims of abuse. This leaves communities and individuals negatively impacted by Canadian mining companies with little hope of obtaining justice." The full letter is available under Downloads, below.
To be effective, the CORE must be arm's length from the government and have the power to order those under investigation to produce documents and testimony under oath. The current adviser has not been granted these necessary powers.
Canada has international human rights obligations to protect, respect, and fulfill. This includes protecting against human rights abuses caused by Canadian companies operating overseas. Yet there is no legal framework in Canada that sets out companies' obligations to respect human rights throughout their global operations and supply chains, nor that defines corporate liability for harms caused as a result of their business activities.
A growing number of jurisdictions worldwide are acknowledging the failure of voluntary initiatives to curb corporate abuse, and have either enacted or are currently examining legislation to hold companies legally accountable when their operations cause harm. CNCA, along with 34 other civil society organizations from across Canada, are calling on the government to learn from these experiences abroad and enact comprehensive and mandatory human rights due diligence legislation that
requires companies to identify, prevent, and mitigate human rights abuses arising from their global operations
applies throughout the entirety of a company's business operations and supply chains; legislation must apply to both companies headquartered in Canada and globally headquartered corporations doing business in Canada
is comprehensive in scope, encompassing the full range of internationally recognized human rights
includes meaningful consequences for non-compliance, including liability for harm and effective enforcement mechanisms
Due diligence legislation can drive change in preventing and addressing adverse human rights impacts, contribute to a more level playing field for Canadian businesses, and ensure Canadian companies can attract and maintain investment. Such legislation would complement developments in Canadian common law that also help to address the significant legal barriers faced by foreign victims seeking to access justice in Canadian courts for overseas abuses linked to Canadian companies.
For more information, see Mining and Resource Extraction.
For more information, contact:
Christie Neufeldt
Global Partnership Program Coordinator
cneufeldt@united-church.ca
416-231-7680 x4078
1-800-268-3781 x4078
Downloads