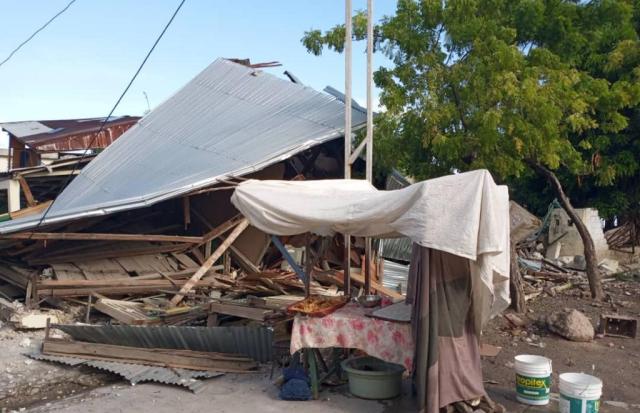 Buildings damaged by the earthquake in Haiti, August 2021.
Credit: Tearfund Canada, 2021. All rights reserved, permission required for further use.
On the morning of Saturday, August 14, Haiti was struck by a severe earthquake. The extent of the damage is still unclear. Haitians and the international community are working hard to rescue people trapped under the rubble. But the number of deaths is rising. Many homes and community buildings have been destroyed. Hospitals have also been damaged, and acutely injured and traumatized people are struggling to find help. And what's more, Tropical Storm Grace hit Haiti on August 16, making an already bad situation worse.
The United Church of Canada is in contact with Mission & Service partners in Haiti to find out how we can support their communities. Today, people in Haiti need emergency shelter, clean water, and food.
Make a gift right now to support the people of Haiti.
Thank you for your generosity.
Donate Now
Online via our secure donation page.
Phone 416-231-5931 or toll-free 1-800-268-3781 ext. 2738 and use your Visa or MasterCard.
Send a cheque or money order to:
Note: As part of the United Church's Emergency Response Fund, 100% of your donation goes directly to emergency relief with 85% of your donation responding to this designated emergency and 15% responding to future emergencies that do not receive intense media coverage. Donations to Mission & Service enable the United Church to cover all of the costs of emergency response work without deducting any fees from your donation.
The Situation in Haiti
The Haitian Methodist Church (HMC), which is a partner of The United Church of Canada, works in the hardest hit areas of the country. The HMC is responding by supplying first aid, medical supplies, water, temporary shelters, and food. Thanks to previous donors to the Global Emergency Response fund, The United Church of Canada made an immediate grant of $10,000 to support their efforts.
This week's earthquake follows sharply on the heels of other disasters, including a massive earthquake in 2010 and Hurricane Matthew in 2016.
The impact of the most recent earthquake is all the more devastating because of political instability, a severe economic downturn, and the COVID-19 pandemic. In the face of the current political crisis , Haitian citizens are working to create an agreement to facilitate a successful interim government to build a different future for their country.
ACT Alliance and our other partners on the ground in Haiti continue to assess the immediate and ongoing needs of their communities. We will share more information with you as soon as we can.