Ask the Canadian government to act now. The pandemic is not over until it is over for everyone.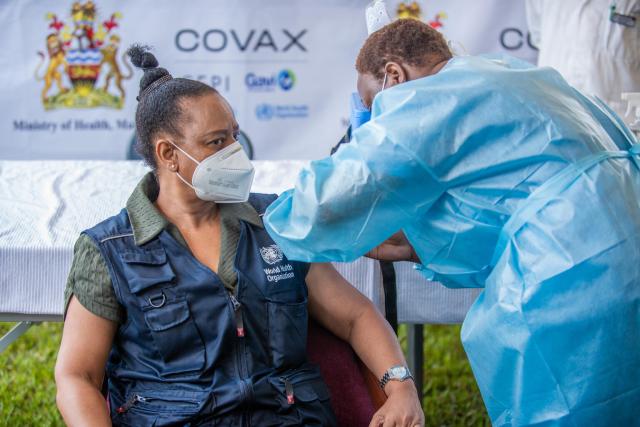 A WHO Malawi representative gets the COVID-19 vaccine at Mzuzu Central Hospital.
Credit: © UNICEF/UN0429068/Mvula
Canada, like many Western countries, has purchased more than enough vaccines and has vaccinated the majority of its citizens. This is not the reality for many people living in low-income countries, where only 6.2 percent of the population (as of December 2, 2021) has been vaccinated against the disease and likely won't be vaccinated until 2023/2024. Global solidarity and action are needed to address the vaccine access gap between rich countries and lower-income countries.
Join the Moderator in calling on the Canadian government to share excess vaccines, allocate more funds to COVAX, increase Official Development Assistance, and suspend the international agreement on property rights to allow vaccines to be produced more quickly and affordably around the world.
Canada demonstrated principled leadership in prioritizing vaccine access in Canada for priority communities, including Indigenous communities. It is this same principled leadership that is needed to prioritize vaccines for all globally.
This virus threatens every aspect of people's lives, amplifying inequalities, destabilizing communities, and reversing progress made on the sustainable development goals in the past decade. Recent promises at the G7 are in the right direction, but there is a long way to go. Now is the time for Canada to be a leader in ensuring fair and equitable vaccine access.
Take Action
Call or write to the prime minister and your MP, and ask them to

Increase financial support to COVAX and urgently redistribute to COVAX Canada's purchased and committed vaccine doses, including doses purchased from COVAX.
Increase official development assistance (ODA) to countries most affected by the COVID-19 crisis with unconditional grants and technical support prioritizing efforts by community-based and -led organizations to strengthen health systems, support social protection, protect people's livelihoods, and foster peacebuilding.
Suspend the international Agreement on Trade-Related Aspects of Intellectual Property Rights (TRIPS) to allow vaccines to be produced more quickly and affordably around the world.

You can write your own letter or personalize the e-mail template below. Prime Minister Justin Trudeau's e-mail is pm@pm.gc.ca. Please cc takeaction@united-church.ca and your own member of Parliament. You can find your MP's contact information by entering your postal code on the Parliament of Canada website. Multiply your efforts by sharing with 10 friends and encourage them to write their own.

Support global Mission & Service partners who are responding to COVID-19 in their communities by donating to COVID-19 Global Response. You can read stories about their efforts on this page too.
Donate to Love My Neighbour Gifts with Vision. Gift a two-dose vaccine to a global neighbour with a donation of $25. Love My Neighbour is a national interfaith movement for global vaccine equity, which The United Church of Canada is a part of.
Share the video message from the Moderator on supporting vaccine justice.
Pray for global Mission & Service partners as they respond to COVID-19.
Share your support on social media using the hashtag #UCCanCOVID19.
Downloads