Urge Prime Minister Justin Trudeau to support human rights and oppose Trump's Mideast plan.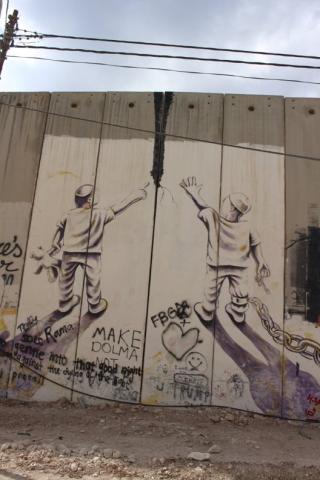 Separation wall graffiti in occupied Palestinian territory
Credit: The United Church of Canada
We are hard pressed on every side, but not crushed; perplexed, but not in despair; persecuted, but not abandoned; struck down, but not destroyed. (2 Corinthians 4:8‒9, NIV)
The United Church moderator, the Right Rev. Richard Bott, has written a letter to Prime Minister Justin Trudeau calling on him to strongly oppose the U.S. administration's "peace plan" for Israel and Palestine, and to urge other international leaders to denounce it as well. "Palestinian and Israeli partners have said that this plan offers nothing to Palestinians but a perpetual state of occupation," said Bott.
Palestinian and Israeli partners are asking churches and Christians to categorically reject this plan, which
discounts and ignores Palestinian voices, disregarding their inalienable rights and concerns
ignores international laws and UN resolutions by condoning annexation and dispossession that upholds illegal settlements, and maintains the structures of the Israeli military occupation on a future Palestinian state
attempts to erase Palestinian claims to Jerusalem by placing the entire city and its surroundings fully under Israeli jurisdiction
violates human rights and international law by limiting Palestinian Right of Return and dismantling the United Nations Refugee and Works Agency (UNRWA), which serves the basic needs of approximately 5 million refugees
Join Palestinians, Israelis, and people around the world opposing the US "peace plan."
Take Action
Call or write to Prime Minister Justin Trudeau, Hon. François-Philippe Champagne, Minister of Foreign Affairs, and/or your local member of parliament and raise your concerns.

Urge them to

speak out publicly about the "peace plan" and call for the need to uphold international law and
support the International Criminal Court's investigation into war crimes committed by all sides in the Israeli‒Palestinian conflict

Share this Take Action on your social media networks. Use the hashtags #UCCan, #NoToTrumpDeal #Israel #Palestine #CdnPoli.
Pray for Palestinians and Israelis working tirelessly for a just peace and an end to the occupation. 
Read and share what Mission & Service, ecumenical, and human rights partners are saying about this plan:​
Background
On 28 January 2020, President Trump presented his "peace plan" for the Israeli‒Palestinian conflict to the world. But rather than being a "vision to improve the lives of the Palestinian and Israeli people," this plan offers perpetual occupation, openly violating international law and the human rights of millions.
Palestinian and Israeli Mission & Service partners of The United Church of Canada categorically denounce this "peace plan," saying that, among other things, "peace-making requires the respect of international legitimacy and the implementation of international resolutions taken in the context of this conflict" (Kairos Palestine). "There are many ways to end the occupation, but the only legitimate options are those based on equality and human rights for all" (B'Tselem).
UN Special Rapporteur for Human Rights in the Occupied Territories, Prof. Michael Lynk, expressed alarm that the US plan would "turn the rules-based international order on its head," cautioning that
The abandonment of these legal principles threatens to unravel the long-standing international consensus on the conflict, favouring realpolitik over rights, power over justice and conflict management over conflict resolution.
The United Church of Canada welcomes the Canadian government's commitment to "international order based on rules. One in which might is not always right. One in which more powerful countries are constrained in their treatment of smaller ones by standards that are internationally respected, enforced and upheld."
Please take action today: write the prime minister and urge him to use this opportunity to be that voice.
For more information, contact:
Patti Talbot
Team Lead Global Partnership
ptalbot@united-church.ca
416-231-7680 x4018
1-800-268-3781 x4018
Downloads