Help Mission & Service partner ACT Alliance respond to the needs of asylum seekers in Central America, Mexico, and at the U.S. border.
Donate Now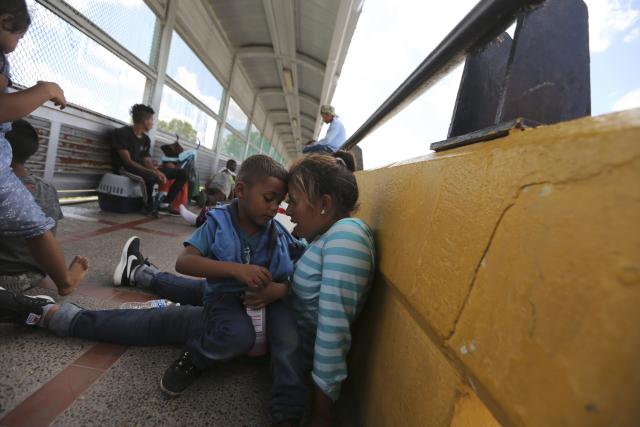 A migrant mother and child share a moment after camping out on the Gateway International Bridge leading from Mexico into Brownsville, TX.
Credit: AP Photo/Fernando Llano
Climate change, social violence, and extreme poverty are driving the exodus from Central America toward the United States. Political and legal changes in the United States mean asylum seekers are now forced to wait in Mexico, where they are at risk of violence or being deported back to their countries of origin. These conditions pose grave risks for people on the move.
The United Church's Mission & Service partner ACT Alliance (ACT) is working with churches and agencies on the ground in Honduras, El Salvador, Guatemala, Mexico, and the United States. Through these networks, ACT is providing increased access to safety, basic needs, and essential information for asylum seekers regarding their rights along the Central America–Mexico–U.S. corridor.
With your support, people on the move—asylum seekers, deportees, and returnees—will be provided with relief assistance and psychosocial support at the borders and in their countries of origin.
Donate Now
Online via our secure donation page.
Phone 416-231-5931 or toll-free 1-800-268-3781 ext. 2738 and use your Visa or MasterCard.
Send a cheque, money order, or Visa or MasterCard information with donation amount to:
"Safe third country" agreements between the United States and El Salvador, Honduras, and Guatemala mean asylum seekers are expected to make refugee claims in the first country in which they arrive. However, these three Central American countries remain unsafe for vulnerable asylum seekers—particularly women, children, and LGBTQ+ migrants. Your gifts will be used to increase the capacity of welcoming networks for humanitarian relief and bolster advocacy efforts to help ensure that the rights of asylum seekers are respected.
Please keep asylum seekers in your prayers. We pray that political leaders in the United States, Mexico, Central America, and Canada recognize that the treatment endured by many seeking asylum defies not only human decency, but also international human rights standards. May they have the courage to work for a viable future for vulnerable children and families among us.
For more information, contact:
Thi Van Hoang
Program Coordinator, Sustainable Development and Humanitarian Response
thoang@united-church.ca
416-231-7680 x2758
1-800-268-3781 x2758