Opening/Closing Date: June 3, 2022 to September 12, 2022
Anticipated Start Date: November 20, 2022
Description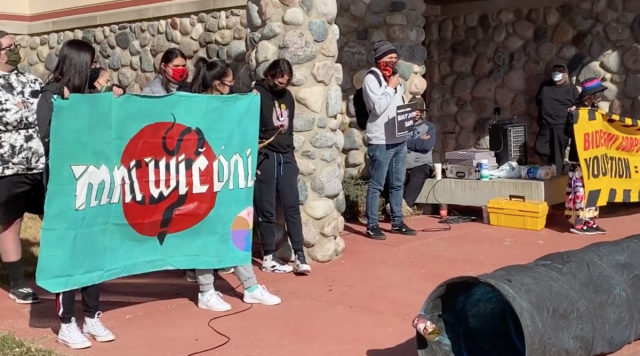 Youth Council from the Standing Rock and Cheyenne River Nations gathered with elders, tribal leaders and other water protectors for a springtime rally. Religious leaders continued to stand with them in solidarity for water justice.
Credit: WCC
Pilgrim in Mission | November 20 – 26, 2022 | $100 | Young Adults (ages 18-30) 

The United Church of Canada encourages young adults to apply to attend the World Council of Churches Eco-School in Stoney Point Centre, New York, USA in November of 2022.
The Eco-School motivates and prepares young people to contribute to the work of the churches at the regional and local level on issues related to water, food, nutrition, health and climate change towards a sustainable future.   It will bring together 25 young people from North America region to discuss the nexus between Water, Food and Climate Justice. The WCC Eco-School will be hosted by the churches in North America, and is a program of World Council of Churches (WCC) Ecumenical Water Network (EWN) in collaboration with various WCC programmes including the Ecumenical Advocacy Alliance (EAA), Economic and Ecological Justice programme, Youth Engagement in the ecumenical movement, Health and Healing and Mission from the margin programmes.

In an ecumenical setting, participants will have the opportunity to study the local, regional, and international manifestations and causes of the water crisis and food insecurity as affected by climate change. They will examine the situation and challenges from a perspective of faith and ethics, and search together for possible ecumenical responses to these challenges. By the end of the Eco School participants are expected to be equipped with the tools to enable them to become eco-advocates for a more sustainable and just earth. To this end, they are expected to draw action plans that may be implemented in their communities.
The program will include:
Lectures and workshops,
Theological and contextual bible studies
Creative liturgy and worship
Exposure visits for a live-in /immersion experience
Sharing of local and regional experiences
Cultural and artistic activities
Learning Journal and Eco-School Newsletter
Assessment and plan of action
Follow up low-cost local projects by participants (subject to available resources) 
Learn more about the EcoSchool programme. 
Timing
November 20-26, 2022 (not including travel time)  
Location
Stoney Point Centre, New York, USA
Cost 
$100.  This can be a combination of personal contribution and contributions from others. 
The balance of in-country program, travel and travel insurance costs will be covered by The World Council of Churches and The United Church of Canada. 
The United Church of Canada believes that everyone should have the opportunity to participate in their programs. If the cost of an opportunity presents a barrier, please contact us at  pip@united-church.ca  to find out more about alternate means of resourcing and financial support.  
Applicant Profile 
Young adult ages 18-30 
Have a demonstrated commitment to, and active engagement in, The United Church of Canada (locally, regionally and/or nationally  
Hold a Bachelor's degree in any discipline including theology, sociology or social work (preferred, but not required)
Interest and engagement in food security, environment and/or climate justice efforts
Willingness to speak to United Church groups about this ecumenical experience and its impact on their faith journey 
Have a valid passport that does not expire before the end of May 2023
Outcomes
Written piece (about 400 words) summarizing the experience, with 5 hi-res pictures and/or alternate communications to share the experience as developed with UCC staff 
Two speaking engagements to UCC communities of faith or ecumenical gatherings about the experience. People in Partnership will include you on their posted Speakers List. 
Ongoing engagement in food security, environment and/or climate justice collaboration 
To Apply
Step 1
Apply for recommendation from The United Church of Canada (General Council Office).
Deadline: September 12, 2022. Apply directly to
In one email please send:
Completed WCC Application – Download the Application.
Your essay
Recent curriculum vitae/resume (max 2 pages)
Letter of recommendation from your church and/or name of General Council Office staff person who can serve as a reference. The letter of recommendation should speak to how you meet the criteria.
Upon review, letters of recommendation from The General Council Office of The United Church of Canada will be prepared for approved applicants.
Step 2
Apply to World Council of Churches EcoSchool programme.
Deadline: September 30, 2022. Apply directly to eco,school@wcc-coe.org
Then, in one email, please send:
Completed WCC Application (above)
Recent curriculum vitae/resume
Your Essay
Letter of Recommendation from your church or ecumenical organization
Letter of Recommendation from The United Church of Canada (1st step)
A photocopy of *passport or identity card.
*Make sure your passport is valid until May 2023.
Early applications are encouraged to allow more time for processing.
If you have any questions, please contact or eco.school@wcc-coe.org
The World Council of Churches will review all applicants who meet the criteria and participants will be selected on the basis of regional, gender, and denominational balance.
The United Church is committed to equity, diversity, justice, and to creating a positive and supportive environment for people of all identities and backgrounds. ALL qualified people are encouraged to apply!
Note: The WCC does accept applications directly, but individuals going this route would need to cover all costs to get to Stoney Point Centre independently and would not have the support of the General Council Office, financially or otherwise.
Note: Travel and in-person participation is vulnerable to restrictions due to COVID-19 pandemic. All participation is subject to the relevant UCC travel policies at the time of the program.