Opening/Closing Date: July 19, 2022 to September 30, 2022
Anticipated Start Date: February 1, 2023
Description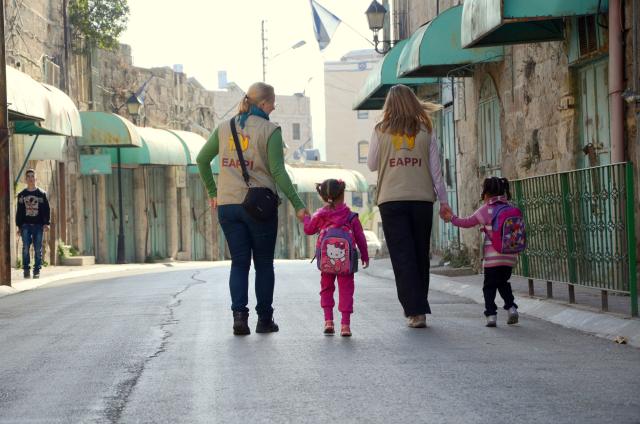 Children on their way to Cordoba School, a Palestinian school in the Israeli-controlled area of Hebron.
Credit: EAPPI/M. Knoblauch
Companion In Mission | 3 months | Paid - Stipend | Feb 2023 at the earliest

The United Church of Canada is seeking three individuals to serve as Ecumenical Accompaniers between November 2022 and December 2023, each for a period of three months.  This opportunity is a cross-cultural embodiment of the mission relationship between The United Church of Canada (UCC) and global partners in the Middle East, through the World Council of Churches (WCC). Created in 2002 in response to an appeal from local church leaders, EAPPI is an ecumenical response to create an international presence to contribute towards the realization of a just peace in Palestine and Israel. The candidate will be appointed to a 3 month role as an accompanier, assigned to a local partner throughout the West Bank and Jerusalem. 
The Ecumenical Accompanier (EA) will serve under the supervision of the Local Program Coordinator of EAPPI. The EA will live and serve in a close, collaborative way with other international EAs. The EAs accompany Palestinians and Israelis who work in nonviolent ways for peace, and people in Palestine and Israel navigating daily routines, often under duress. Primary responsibility is to offer a protective presence to vulnerable communities, and monitor and report human rights abuses. The incumbent must have a willingness to learn and accompany the purpose and ministry of the WCC in occupied Palestine. Upon return home, the incumbent will share first-hand experience to inform their local community of faith, civil society and government of the realities of occupation. 
Ecumenical Accompaniers receive a monthly stipend. As well, travel costs to and from the placement and health insurance are covered by The United Church of Canada. 
Timing
We are looking for 2 participants in 2023. 
Group 87 - February – May 2023
Group 88 - June – September 2023
Group 89 -  September – December 2023 

In the unpredictable context of COVID-19, these dates are subject to change.
Qualifications
Reasonable accommodation will be made to enable individuals with disabilities to perform the essential functions. 
Active commitment to, and articulation of, the gospel of Jesus Christ and participation in The United Church of Canada with solid knowledge of the commitments and ministries of The United Church of Canada, its policy and practice in global partnership, and support of the ecumenical movement; 
Readiness and capacity to live out the United Church's commitment to becoming an intercultural church and becoming an anti-racist denomination;
Good physical condition to deal with the physical demands of monitoring and accompaniment; 
Good mental health with a solid support structure during and upon return, to process experiences of occupation; 
Excellent English language verbal, written and electronic communication and networking skills. Ability to read, analyse and interpret large amounts of complex information; 
Basic verbal Arabic language is a definite asset; 
Ability to exercise self-awareness, sensitivity and compassion often working within areas of cultural difference.  Personal integrity, maturity and respect for others essential;  
Lived cross-cultural experience an asset, preferably in church or church related work; 
Cognitive discipline and alertness. Good self-esteem; in touch with their own needs, strength, and limitations;  
Demonstrated understanding of the impacts of the Israeli occupation of Palestinian territories; 
Commitment to advocating for change and promoting a just peace in Palestine and Israel upon return home; 
Willingness and ability to spend 3 months or more in Palestine and Israel, and to work under the direction of the partners; 
Commitment to adhere to the security measures of the EAPPI program; and 
Ability to live a simple lifestyle 
This position serves from a local placement in the West Bank and Jerusalem with limited resources and facilities and high levels of demands. Working hours may be extended depending on the needs of the local community.  
This appointment is subject to the following conditions: 
a positive recommendation from the interview panel, comprised of at least 2 elected members, for global service;  
a positive recommendation for global service from the Church in Mission Unit's medical consultant based on a thorough medical examination, and approval of application for insurance from the global medical insurance carrier; 
a satisfactory outcome from a Police Records Check through the Canadian Police Information Centre via the RCMP; and 
Global Partner approval 
Compliance with UCC travel policy. 
More Information
Visit this UCC webpage and the Ecumenical Accompanier Programme in Palestine and Israel website.  If you have questions, please email the People in Partnership program at  pip@united-church.ca
To Apply
Interested applicants are invited to fill in an Initial Inquiry Form.
Applicants are reviewed as received. 
The review process can take several months, so it is never too early to apply.