Canada's announcement follows United Church people's call for the government increase its support of UNRWA.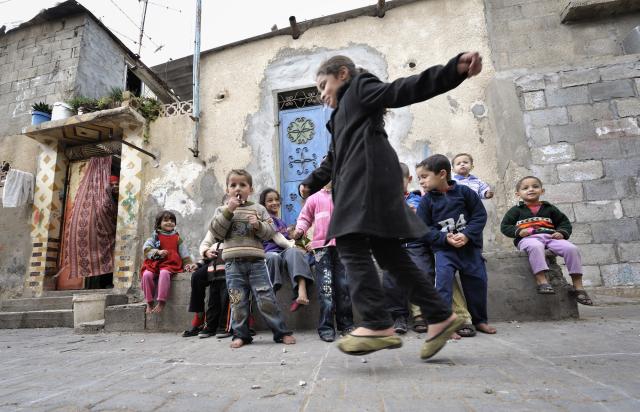 Children play in the Nuseirat refugee camp in the middle of the Gaza strip.
Credit: ACT Alliance/Paul Jeffrey
Published On: October 15, 2018
The United Church continues to be concerned about the worsening plight of Palestinian refugees. Our faith calls us to value compassion and human rights for all of God's children.
On October 12, 2018, Marie-Claude Bibeau, Minister for International Development and La Francophonie, announced federal government support of up to $50 million over two years for the United Nations Relief and Works Agency for Palestinian Refugees in the Near East (UNRWA).
In September 2018, the United States government announced that it would cease funding UNRWA, leaving it with a $446 million shortfall. In response, United Church people called on Canada to increase its support. Thank you to all who participated in this action. Your advocacy makes a difference!
 Humanitarian commitment and political will from Canada and the international community are required to address the ongoing crisis in the West Bank, East Jerusalem, and Gaza. Immediate, increased humanitarian aid is essential; collaborative international effort for a negotiated resolution to secure a just and lasting peace in the region is just as urgent.
At this particular time, the United Church is calling attention to the imminent threat of destruction and forcible transfer faced by the residents of Khan Al Ahmar, a Palestinian Bedouin village in the occupied West Bank. On October 3, Prime Minister Justin Trudeau stated that the Canadian government has spoken against the demolition of Khan Al Ahmar to the Israeli government and is particularly concerned regarding the destruction of the village's "Tire School."
Tell the Prime Minister that you share Canada's concerns. Visit our Take Action to learn more.
For more information contact:
Christie Neufeldt
Global Partnership Program Coordinator
cneufeldt@united-church.ca
416-231-7680 x4078
1-800-268-3781 x4078
Patti Talbot
Team Lead Global Partnership
ptalbot@united-church.ca
416-231-7680 x4018
1-800-268-3781 x4018