A UBI program would help provide an adequate living level for everyone and address the persistent inequities within our country.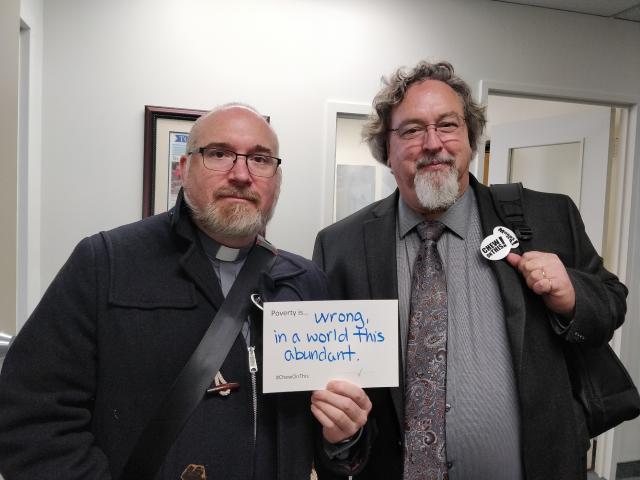 Moderator Richard Bott (left) is pictured at a 2018 Dignity for All event calling for action to end poverty in Canada. Beside him is Peter Noteboom, General Secretary of the Canadian Council of Churches.
Credit: Courtesy of Dignity for All
Published On: May 25, 2020
"The COVID-19 pandemic has emphasized our interconnectedness to one another across this country. As a church we seek to care for and uplift human dignity and spirit…"
Moderator Richard Bott is calling on the Canadian government to "seize the moment" offered by COVID-19 pandemic relief programs and move forward with developing and implementing a universal basic income (UBI) program. His full letter is available under Downloads, below.
United Church congregations and ministries across the country are involved in many grassroots programs that support people living in poverty every day. A UBI program would be an important part of the national fabric of services to protect the health and safety of all Canadians.
The Moderator emphasizes that any UBI program adopted by Canada must prioritize facilitating the participation of Indigenous peoples. A UBI program should preserve human dignity rather than create stigma, remove discriminatory barriers, not penalize people for the work that they do, and be available with a minimum of bureaucracy.
As the COVID-19 pandemic has demonstrated, "poverty can happen very quickly to anyone," writes the Moderator. A growing movement of Senators, Anglican and Evangelical Lutheran bishops, and many more across the country are calling for one. Add your voice to the call for a universal basic income program in Canada.

Downloads