During this election, we invite you to reflect on issues of reconciliation and Indigenous justice.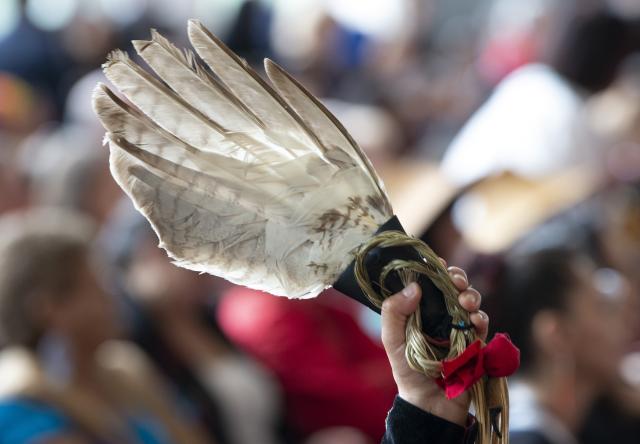 Credit: THE CANADIAN PRESS/Adrian Wyld
Published On: August 16, 2021
Discerning who to trust with federal leadership on issues of reconciliation and Indigenous justice might begin with reflection on the seven teachings sacred to many Indigenous nations: respect, truth, courage, humility, honesty, love, and hope. Who best embodies these teachings on matters critical to Indigenous peoples?
During this election, we invite you to reflect on a number of these issues through this lens, and to bring these questions to candidates as you discern how to make your electoral choice.
United Nations Declaration on the Rights of Indigenous Peoples
In recent months, Parliament has passed An Act Respecting the United Nations Declaration on the Rights of Indigenous Peoples (UNDRIP), and it has received Royal Assent. This is a sign of hope for the future. It is also an act of respect. Recognition of Indigenous peoples' sovereignty over their own lives, communities, and lands is fundamental to UNDRIP. The honour of the Crown is at stake as future federal governments turn their attention to implementing the Act.
The National Indigenous Council of The United Church of Canada expressed hope that in adopting the Declaration and beginning its implementation, the Government of Canada would move to bring colonial systems, including those named in the Indian Act, to an end. The Council called for future relationships to be guided by the spirit and intent of the Treaties, which articulated a nation-to-nation relationship.
Bringing the Children Home
As the UNDRIP legislation moved towards Royal Assent, the conscience of Canadians was rocked by news of over a thousand bodies in unmarked graves at the sites of four former residential schools. The country was reminded that other such sites exist. The remains of children taken from their homes and never returned attest to the truth that still needs to become widely known. There was an outpouring of love from across the country, and hearts were stirred by this news, but love must turn to action.
The United Church of Canada has sought to act in humility and to support Indigenous communities in exercising their sovereignty in relation to whether and how to search for remains at sites for which the United Church bears responsibility. It will be important for the new federal government to follow through on similar commitments to act in humility.
Longstanding Reconciliation and Social Justice Issues
The next government will need the courage to prioritize implementation of the Calls to Action of the Truth and Reconciliation Commission of Canada, the Calls to Justice of the National Inquiry into Missing and Murdered Indigenous Women, and the work of addressing the many inequities in treatment of Indigenous peoples in public policy.
This includes ending ongoing efforts to silence findings by the Canadian Human Rights Tribunal that Canada racially discriminates against First Nations youth and their families, and definitively ending boil water advisories and ensuring that all Indigenous communities have access to safe, clean water.
It also includes addressing jurisdictional issues between the federal and provincial governments to ensure that Indigenous peoples have equitable access to healthcare and mental health and addictions support. The stories of residential schools and other programs of assimilation tell us that the harms done continue to exist today. It is clear that the starting point for healing is different for Indigenous peoples.
Indigenous members of the United Church have described how structural inequities in Canadian society created barriers to accessing pandemic relief programs. The Guaranteed Livable Income program supported by the United Church should ensure that both the application and payment processes facilitate participation by all Indigenous peoples, whether they live in urban centres or remote communities.
Land and Resources
Courage is required to bring forward justice concerning lands and resources. To uphold treaties and nation-to-nation relationships. To ensure that Indigenous rights, knowledge, and wisdom are an integral part of any new government's approach to climate justice. To ensure that a process of free, prior, and informed consent is integral to any proposed development project on Indigenous land, including resource extraction projects on Indigenous territory. To ensure that revenues are fairly shared. And to ensure that assessment and management processes related to the land and environment genuinely reflect and respect Indigenous rights and ways of life.
Closing Reflection
The National Indigenous Council believes that the only way a new relationship can be achieved is through a conversation between Canada and Indigenous Nations that is deep, broad, and honest.
We pray therefore for leadership that is committed to respect Indigenous peoples and nations. For leadership that will listen to the truth and act to redress historical wrongs. For leadership that will relate to Indigenous leaders and governments with humility, supporting them in exercising their right to self-determination. We pray leaders will show the courage of their convictions in financial and policy decisions. We pray for honesty in resolving conflicts over land and resources. And we pray that hearts filled with abundant love for Indigenous children of the past, present, and future will guide our decision-making, as well as the decision-making of those to whom we and our fellow citizens entrust national leadership.