Commissioners of the 43rd General Council will consider moving General Council 44 from 2021 to 2022 due to the COVID-19 pandemic.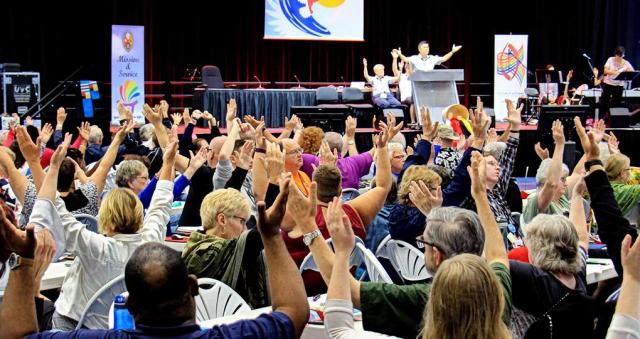 Closing worship at General Council 43, July 27, 2018
Credit: The United Church of Canada
Published On: May 26, 2020
On June 20, 2020, commissioners of the 43rd General Council will meet electronically to consider a proposal from the 43rd General Council Executive (GCE) to postpone the 44th General Council to 2022 due to the COVID-19 pandemic.
This special meeting will be webcast through the church's YouTube channel and will begin at 11:30 am (ET). All attendees will be joining remotely online.
Updates related to this possible postponement will be posted to the General Council 43 website. For the most up-to-date information, please visit the online home of General Council 43.
In additional to the possible postponement of General Council 44, the GCE met on May 25 to discuss several other agenda items, including pension plan funding and updates to the Medical Assistance in Dying (MAID) statement. For more information, please refer to the summary notes that will be posted imminently in the GC43 Executive's Summaries folder of the United Church Commons.