United Church joins Palestinian Christians in prayer, solidarity, and action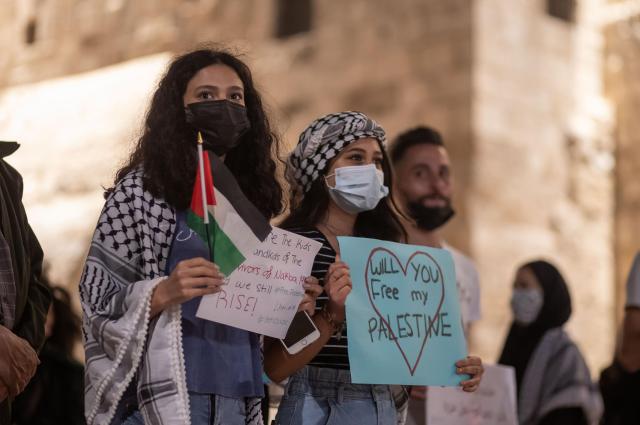 People take part in a protest against the continued Israeli airstrikes on the Gaza Strip, in front of the Church of the Nativity in the West Bank city of Bethlehem, May 18.
Credit: © Luay Sababa/Xinhua via ZUMA Press
Published On: May 19, 2021
Palestinian Christians are calling on Christians worldwide for solidarity and action as the numbers of people injured and killed in Palestine and Israel rises.
"We [call] on the global Church and the international community to call things by their names, to speak truth to power, and to side with the oppressed. Shallow diplomacy serves only to empower the oppressors. Given such violent and severe escalations, empty words of condemnation are not enough," says Kairos Palestine.
In particular, United Church communities of faith are invited to preach about the Palestinian families in Sheikh Jarrah facing forcible displacement.
Pray with partners in Palestine and Israel for an end to violence, displacement, and the occupation. Consider using these resources, including sermons by Palestinians, in your worship:
Take Action
Call, e-mail, or write to Foreign Affairs Minister Marc Garneau and your Member of Parliament. Insist that Canada take immediate and concrete steps to uphold international law with regard to the Israeli occupation of Palestinian territories, as stated in the April 20, 2021, ecumenical letter to Minister Garneau
Join Sabeel (a Mission & Service partner) each week in Kumi Now, a global solidarity initiative that highlights different organizations working to raise awareness about specific issues in Palestine-Israel, provides information about issues of injustice through the stories of those affected, and promotes creative and nonviolent advocacy action.