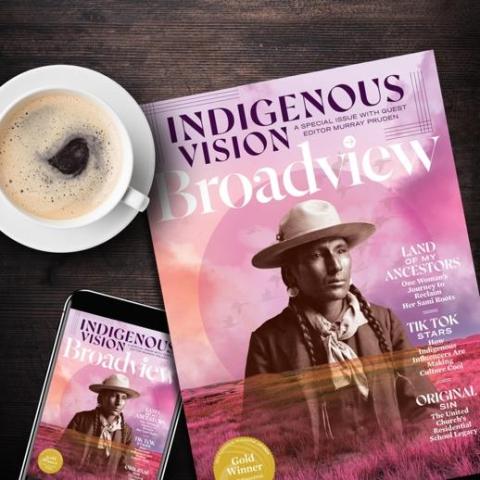 Credit: Broadview Magazine
Published On: September 6, 2022
For the first time, Broadview magazine welcomes an Indigenous guest editor: Rev. Murray Pruden, Executive Minister of Indigenous Ministries and Justice for the United Church.
"I chose to be the guest editor for this issue because I like to share the exploration of who I am with others and not hide the fact I am a Cree person. I want to celebrate my identity and the identity of others. My hope is that together we can help those who do not have the same confidence to be proud of who they choose to be," Pruden explains in his guest-editor's message, "Shared Journeys."
Indigenous creators contributed the vast majority of the writing, illustration, and photography in this issue. The cover art is an original commission by Chichimeca and Apache artist Mer Young.
Copies of Broadview's "Indigenous Vision" issue can be found on selected newsstands and the articles are online at Broadview.org.