Congregations may wish to honour healthcare workers during COVID-19 by celebrating the faith of this founder of modern nursing.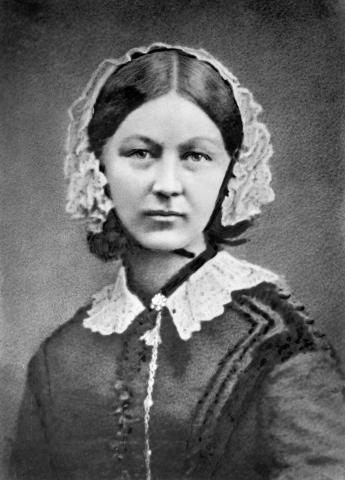 This photograph of Florence Nightingale (c. 1860) was taken by Henry Hering (1814–1893) and hangs in the National Portrait Gallery, London, England.
Credit: Public Domain/Wikimedia Commons
Published On: May 8, 2020
May 12, 2020 marks 200 years since the birth of Florence Nightingale. It is well known that the "Lady with the Lamp" dramatically lowered the death rate of soldiers during the Crimean War, improved conditions for the sick in Victorian England's workhouses, and pioneered modern nursing reforms. It is less well known that her dedication to nursing was her faithful response to God's call to care for the sick.
United Church people have been asking how we can honour the ministry of healthcare workers, particularly during the COVID-19 pandemic. Communities of faith may wish to use the newly created worship service On the Life and Faith of Florence Nightingale (available under Downloads, below and on the Vocations worship webpage) at any time during Nightingale's bicentenary in 2020.
The service was created by Ralph Carl Wushke and Lynn McDonald and first used during Sunday worship at First Evangelical Lutheran Church, Toronto, ON, on January 26, 2020. Ralph Carl Wuschke was the minister at Bathurst Street United Church from 2000 to 2018. He is currently the pastor at First Evangelical Lutheran Church and a supporting chaplain for the Student Christian Movement (SCM) at Ryerson University. Lynn McDonald is a professor emerita of sociology at the University of Guelph, a former Member of Parliament (1982–1988), and the author of several books about Nightingale.
Nightingale told her mother in a letter in 1872: "I only wish for God to make me what He wishes—that I may be able to do all He asks of me." During the COVID-19 health crisis, may we continue to give thanks for the life, work, sacrifices, and faith of all healthcare workers who answer the gospel call to take care of the sick.