"Now is the time to make a lasting change in the system"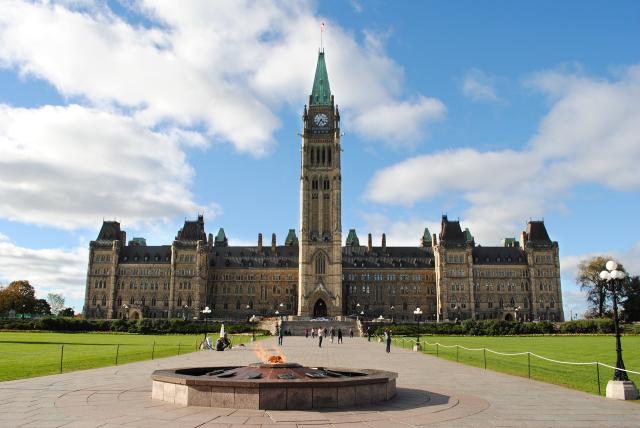 Centennial Flame on Parliament Hill.
Credit: festivio from Pixabay
Published On: March 29, 2021
On Thursday, April 8, 12:30 p.m. local time, on the eve of the Liberal and New Democratic Party National Conventions, The United Church of Canada is inviting Canadians across the country to light a candle in support of a guaranteed livable income. Building on the heightened awareness of the importance of community health and well-being and on the demonstrated success of basic income programs, this is a unique opportunity to call on our government to roll out a guaranteed livable income program in collaboration with the provinces, territories, and Indigenous leadership.
"When people have a livable income, they can turn the heat on, pay for medications, have decent food, pay the rent, leave an abusive relationship, and plan for the future. Now is the time to make a lasting change in the system and encourage a more equitable society," says the Very Rev. Lois Wilson, former Moderator and senator, citing the reflections of GLI activist Karlene Cameron and testimonies of basic income participants.
Low-income racialized communities have been hit the hardest by COVID and its economic impact. A guaranteed livable income would benefit all, especially those in our society who are economically disadvantaged by manifestations of systemic racism. Existing alongside other social supports, including health care, pharmacare, pension, and education supports, it could address the inequities that exist within the current wage and social benefit structures.
Light a candle, take a picture, and post it to social media (#UCCanlivableincome, #guaranteedlivableincome #basicincome). Send it with a message to Prime Minister Justin Trudeau, Minister of Finance Chrystia Freeland, your local MP, and news outlets. Follow up with an e-mail using the e-mail template available, or craft your own. Please cc: takeaction@united-church.ca. Encourage others to do the same. Photos from coast to coast will be posted on The United Church of Canada Facebook page.
Support for this fundamental social policy is coming from numerous national, regional, and local organizations. In addition to the United Church Moderator the Right Rev. Richard Bott's public statement, leaders of the Anglican Church of Canada and the Evangelical Lutheran Church in Canada, Moderator the Rev. Amanda Currie of the Presbyterian Church in Canada, as well as 50 senators have written letters to the federal government. In recent months, Motion M-46 Guaranteed Livable Basic Income and Private Member's Bill C-273 National Strategy for a Guaranteed Basic Income Act have been introduced.
To bring visibility to this event, the church is holding more than 40 small vigils on April 8 at 12:30 p.m. local time across the country from St. John's to Victoria at constituency offices of Members of Parliament and online. For more information, follow #UCCanLivableIncome. Due to the current COVID-19 pandemic, these are closed vigils limited to locally designated individuals in line with provincial public health outdoor event limits, wearing masks, and following social distancing protocols.
Contact:
Catherine Rodd
Executive Officer Communications
The United Church of Canada
crodd@united-church.ca
Downloads