How you can help stop parents from being separated from their children—in both countries.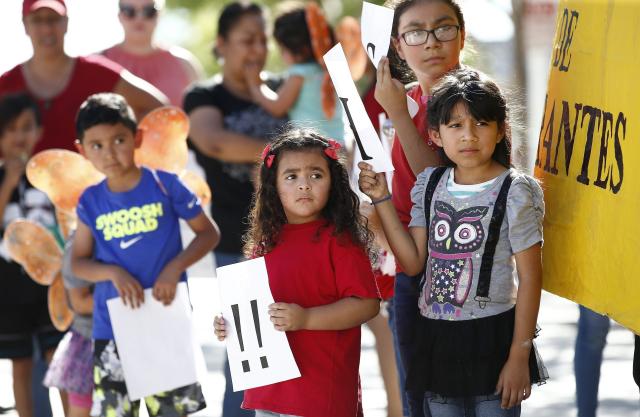 Children at an immigration family separation protest in Phoenix, AZ, June 18, 2018.
Credit: Associated Press/Ross D. Franklin
Jesus said of children, "to such as these… the kingdom of God belongs" (Mark 10:14). Since April 2018, nearly 2,000 children have been separated from their parents and placed in mass detention centres or foster care as part of the Trump administration's "zero tolerance" policy toward those without visas attempting to cross the US-Mexico border. The U.S. attorney-general has recently cited a "law-and order" reading of biblical texts to justify this action. In response, the United Church's full communion partner the United Church of Christ (USA) has said that it "strongly condemns the dismantling of families, the criminalization of the quest for freedom, and the caging of those whose only crime is to seek shelter from harm."
We might like to think that this is a new issue, but in fact it is not unknown to us. Through residential schools and the Sixties Scoop, the United Church participated in or condoned the removal of Indigenous children from their homes and families. The church recognizes that our actions were rooted in systemic racism and contrary to the call of the gospel. We acknowledge with respect those people, past and present, who we harmed in this practice.
Because of this, we feel a responsibility to speak out against current action directed at migrant families in the United States, and the racism and policies that enable it. As the United Church of Christ states, "God hears the cries of God's people. The plight of black and brown migrant families whose children are ripped from their care cannot be the policy of a civilized land."
Canadians need to hear these words as well. We continue to be complicit in policies that marginalize and separate Indigenous and racialized children from their families. The 2016 census revealed that while less than 8 percent of Canadian children under 14 are Indigenous, they represent more than 50 percent of those in care. The First Nations Child and Family Caring Society has comprehensively shown that the nature of this care is sub-standard, a finding that the Canadian Human Rights Tribunal has agreed is rooted in racial discrimination.
Migrants in Canada can be separated from their children as well. The Star Vancouver reports that, according to Canada Border Services Agency's online detention data, about 182 minors per year have been detained in Canada since 2015 while their parents await deportation hearings. The children who are detained are often Canadian citizens. According to a new report, Canada's detention of children can cause physical and psychological harm and violates the children's fundamental human rights.
Both Canada and the United States can do better for these children. We must approach the challenges they face with kindness, compassion, and most importantly, justice.  Long before Europeans arrived in North America, there existed political, economic, and social systems where people recognized their connections with each other and with the lands they shared. They understood that what affected one affected everyone. May we also remember this, from the Gospel of Matthew: "truly I tell you, just as you did it to one of the least of these … you did it to me" (25:40).
What You Can Do
Pray for migrant families. You may wish to use the Prayer for Asylum Seekers.
Also pray that political leaders, both in the United States and Canada, recognize that the treatment they are giving children in these cases defies not just human decency, but international human rights standards. We pray that they have the courage to rise strive towards a viable future for vulnerable children and families among us.
The United Church Observer offers practical ways that United Church people can move "from anger to advocacy" on these issues:

Call on Canada to end the Safe Third Country Agreement with the United States.
Advocate for migrant rights in Canada
Donate (e.g., to the United Church of Christ's "Keeping Families Together" program)

Support the work of the First Nations Child and Family Caring Society.
Share this statement on your social media networks. Use the hashtags #UCCan and #KeepingFamiliesTogether.
Learn more about reconciliation and Indigenous justice.
For World Refugee Day (June 20), read the blog post My Passion for Refugees and consider refugee sponsorship.
Note: As this statement was being finalized, news broke that the U.S. president is preparing an Executive Order to end the separation of families at the border. The United Church of Canada welcomes this news; however, the questions of migration and separation of children in the Canadian context remain, as do the values articulated in our statement and the suggested actions.