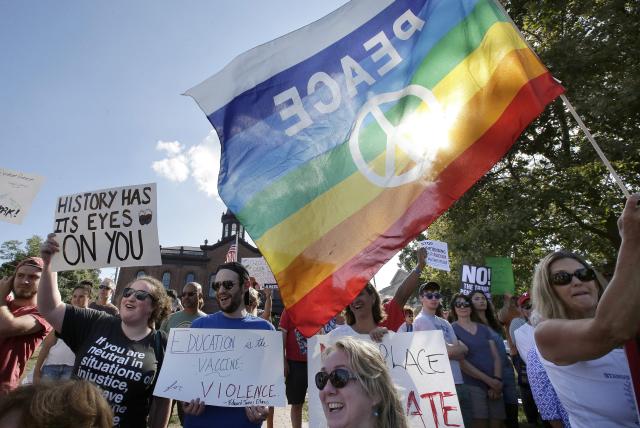 Credit: The Associated Press - Steven Senne
Published On: August 14, 2017
In the aftermath of the August 12 weekend when White supremacists and White nationalists converged in Charlottesville, Virginia, The United Church of Canada is asking its members to recommit themselves more fully to challenging the systemic racism manifested by this event, and to accompany those working for racial justice and equity.
On that day, those assembled included members of the Ku Klux Klan, Nazi sympathizers, armed militias, and alt-right groups. They carried torches, waved Confederate and Nazi flags, and shouted racist chants. The White nationalist rally quickly turned into a violent riot: a neo-Nazi plowed a car into the crowds of counter-protesters, who were providing a peaceful counterpoint and calling for equity and justice. At least one person was killed immediately; 19 others were injured.
As images about the unrest and tension in Charlottesville poured in, some people were shocked at the blatant racism and the overt xenophobia on ugly display. Some were dismayed at the continued existence of White supremacists groups and disgusted by the insistence that White people are superior to people of other races. Some could not believe that racial injustice is still a serious concern in 2017.
Sadly, for others these events were not surprising. Racial injustice and race-based aggression are both part of the everyday experience of racialized people. These individuals, and those who have been working for racial justice, are keenly aware of the persistent presence of White privilege and White supremacy in society—even in church.                              
Events on the scale of what occurred in Charlottesville this past weekend are relatively rare, but systemic racism is a pervasive and dangerous reality. Its effects are even more devastating than an overt and visible representation such as a racist rally. Rather than being a one-off and isolated event, the Charlottesville riots were a manifestation of the continuum of racial inequality that is an ever-present part of mainstream society. The reality of racial injustice all over the world—and the struggle against it—is ongoing.
The United Church of Canada's anti-racism policy states that:
We believe racism is present in our society and in our church, and throughout time has manifested itself in many forms in varying degrees…

We believe change is possible. We believe in forgiveness, reconciliation, transformation, and the potential to learn from stories and experiences. We believe we are all called to work against racism, and for a society in which the words of the Gospel are realized among us.
The United Church remains firmly committed to racial justice, equity, and intercultural engagement. The events in Charlottesville have only emphasized the imperative for these commitments. Further, the racial realities on display in Charlottesville highlight the need to talk openly about White privilege and the culture of Whiteness.
The United Church's anti-racism policy notes that, "we believe that racism will never end, that it is an obstacle we face in our efforts to follow God… We believe that the struggle against racism is a continuous effort." The work towards racial justice, therefore, cannot only be a reactive response to racial riots in the news; rather, it must be an ongoing, proactive, and persistent effort.
It is time to re-commit to racial justice, equity, and to confronting White privilege and all of its manifestations. The church has many resources for people who want to become more involved in mending the world.