A unique and historic service filled with joy, song, and moving reflection.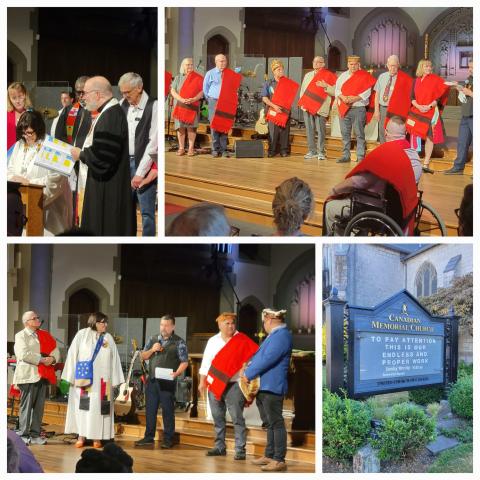 Credit: The United Church of Canada
Published On: August 8, 2022
In a service brimming with joy, the Right Rev. Dr. Carmen Lansdowne, Kwisa'lakw was installed as the 44th Moderator of The United Church of Canada. Held on the unceded territories of the Musqueam, Squamish, and Tsleil-Waututh Nations, the service was live streamed across the country with over 500 people watching.
Attended by hereditary chiefs, including from Moderator Lansdowne's own Heiltsuk Nation, as well as by national, regional, ecumenical, and interfaith guests, the worship marked a series of historic firsts. Moderator Lansdowne is the first Indigenous women to lead The United Church of Canada. Hosted at Canadian Memorial United, the installation was the first to be held in a specific community of faith, rather than at a General Council venue. Through a stirring commemoration led by Vanessa Richards, it was the first official marking by the denomination of Emancipation Sunday.
Led by the Rev. Graham Brownmiller, Chair of the GC44 Worship Team, and Rev. Beth Hayward, Minister of Canadian Memorial, the worship moved between languages, with prayer, song, and scripture offered, including in French, Heiltsuk, Gitxan, and Cree. Woven in this tapestry, and led by the 43rd Moderator Richard Bott and General Secretary Michael Blair, were commitments made by and to the new Moderator. The service also included the laying on of hands by representative leaders and Elders and the presentation of gifts from Rev. Lansdowne's nation and the Indigenous Church, as well as the traditional stole, Bible, and talking stick.
In her moving reflection, Moderator Lansdowne spoke of her own experience and understanding of Jesus, and challenged the church to embrace a radical commitment to listen to oppressed communities. Speaking poignantly of the "unfinished business" to which the church must attend, she urged the denomination to make thoughtful choices, ones that lead to healing for marginalized communities and for the Earth itself. Pressing the church to be brave, she called for "deep spirituality, bold discipleship, and daring justice," a practice "that won't be safe but it can be good."
Close to the end of the service, a series of persons important in the life of Moderator Lansdowne and her family were gifted blankets by her mother, Dolly Lansdowne, Aunt Brenda Humchitt, and Honoured Elder Elenor Thompson. Hereditary Chiefs, including Heiltsuk Chief Harvey Humchitt, invited the church and gathered community to continue in the work towards reconciliation. Chief Dr. Robert Joseph began a tender chorus of "How Great Thou Art" which brought the congregation to its feet, joining him in song. Moderator Lansdowne led the procession from the church accompanied in Heiltsuk song and drum.