Take some time with children to mark a different kind of Valentine's Day.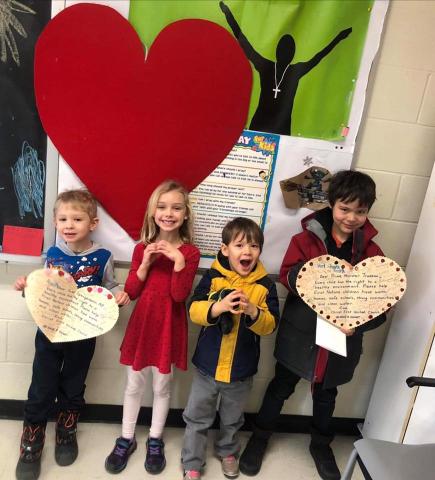 Have a Heart Day at Christ First United, Mississauga, 2020 (taken in pre-pandemic days)
Credit: Courtesy of Victoria Keane, Christ First United Church
Published On: January 25, 2022
We are asking United Church communities of faith to take some time by February 14 to mark a different kind of Valentine's Day: Have a Heart Day.
Have a Heart Day is a project of the First Nations Child and Family Caring Society. Led by Dr. Cindy Blackstock, the Caring Society educates about and advocates for the rights of Indigenous kids across Canada. It works directly with Indigenous kids and communities to do this.
Because Have a Heart Day is about kids, we really want to involve kids in this activity. We hope non-Indigenous kids can learn about the different experiences of kids in Canada and take action out of a sense of compassion. We also hope Indigenous kids can speak from their hearts about what they want and need.
These materials are designed to help you help them do that. We hope you will
use your community of faith's Sunday school time to introduce Have a Heart Day
discuss these issues with the children so they can respond with a Have a Heart letter or valentine to the prime minister
gather the letters/valentines (or pictures of them) and send them to the prime minister either by e-mail or mail (no postage required):
Prime Minister Justin Trudeau
House of Commons
Ottawa, ON  K1A 0A6
Have a Heart Day Prayer
Dear God,
We know that you love all children the same
and want us all to grow up healthy, safe, and strong
with our families and in our communities.
Help us make sure that everyone has a warm home,
a safe and comfy school,
clean water,
and the people who love us and care for us.
Help the people who make these decisions
make them out of love.
In Jesus' name we pray. Amen.
For more information, see the First Nations Child and Family Caring Society website.
Downloads