Reconciliation requires not only atoning for the past but also working to change present structures.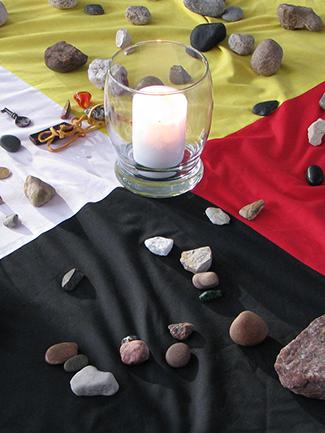 Published On: June 2, 2020
June 2 is the fifth anniversary of the 94 Calls to Action of the Truth and Reconciliation Commission of Canada (TRC), addressing the history and legacy of Canada's Indian Residential Schools system. The United Church of Canada operated 15 residential schools, accounting for 10 percent of students, all of whom suffered cultural loss and many of whom were subject to physical, sexual, and other forms of abuse in the schools.
On that day five years ago, we and the other churches that ran the schools acknowledged our part in this "assault on Indigenous families, culture, language and spiritual traditions," and said that "we continue to share a responsibility to ensure that the task of reconciliation does not end today." This would not have happened if it were not for the action of residential school survivors.
"The work of building right relations between non-Indigenous peoples and the Indigenous peoples of this land is always ongoing, because relationships must be built on truth and trust—and those must be built up every day," says Moderator Richard Bott. "In faith and love, the United Church recommits itself to that work as we mark this anniversary."
The church has adopted the United Nations Declaration on the Rights of Indigenous Peoples as the framework of reconciliation (Call to Action 48), and it has subsequently been implemented within our structures by the Calls to the Church and the creation of a self-determining Indigenous church.
While these are important steps, there is still much work to do, within the church and within Canadian society. Survivor Ray Jones, who is also a member of the church's National Indigenous Elders Council, reminds us of the Gitxsan teaching to "upright the canoe" when it has capsized. It is time for non-Indigenous society to do this work.
Reconciliation requires not only remembering and atoning for the past but also working actively to change present structures so that no more Indigenous children are harmed by Canadian policies. As survivor and Elder Donna Kennedy says, "I am not here for me. I am here for my children, my grandchildren, and the children to come."
We continue to advocate for comprehensive curriculum on the history and cultures of Indigenous peoples; for greater respect for Indigenous spiritualties; for justice for missing and murdered Indigenous women and girls and their families; and for structural change in health, education, and child welfare systems so Indigenous children are no longer racially discriminated against.
With other churches, we continue to advocate for federal legislation harmonizing Canadian law with the UN Declaration (Call to Action 43). With other parties to the Indian Residential Schools Settlement Agreement, we are developing a Covenant of Reconciliation (Call to Action 46) for all Canadians to join. We are working with the other parties to ensure that the names of children who died are known, and that they and their places of burial are appropriately remembered (Calls to Action 72–76).
Survivor and Elder Lorna Standingready reminds us that for all the loneliness, hunger, and fear that children in residential schools endured, "We are resilient and strong; we are survivors. We haven't lost our laughter." And she says, "We are waiting for the good words of 2015 to be fulfilled."
Please mark this anniversary by acknowledging not just hardship but also resilience. Please commit to doing your part to fulfill the Calls to Action, and help bring forward a transformed relationship between Indigenous and non-Indigenous peoples in Canada.
On June 2, please take some time in reflection, making use of this prayer by Carolyn Wilson Wynne from one of the services prepared for Indigenous Day of Prayer 2020:
Creator God, Great Spirit, whose compassion has been known in our lives more times than we can count, we open our hearts and souls to the needs of this world.
On this Indigenous Day of Prayer, we acknowledge the great injustices perpetrated against those who lived on and cared for this land long before our ancestors arrived.
We pray that with compassion and determination we will continue to make ourselves aware of the impact of Residential Schools, the Sixties Scoop, and the suppression of Indigenous culture and tradition so that the legacy of colonization is acknowledged by each of us.
Creator God, Great Spirit, you call us to relationships rooted in equality and respect. This day we covenant to be more aware of the racism that the Indigenous, Métis, and Inuit people of this country experience. We commit ourselves to raise our voices when we hear prejudiced comments, to guide others in the sacred direction of celebrating diversity that is your gift to humanity.
Creator God, Great Spirit, in the quiet of our hearts and through the witness of our beings we pray thanks for Your accompaniment on the journey toward individual and communal wisdom and understanding. Let us who are the Church stand in solidarity and true to Jesus' call to reconcile with sisters and brothers.
Creator God, Great Spirit, hear our prayers and guide our actions from this moment on.
On June 21, Indigenous Day of Prayer, please remember this anniversary and commit to the ongoing work of reconciliation in one of our two new orders of service, Seven Grandfather Teachings by Indigenous writer Deb Anderson-Pratt, or Covenant of Reconciliation by non-Indigenous writer Carolyn Wilson Wynne. Additional information about Indigenous Day of Prayer and its significance in the United Church can be found at Why an Indigenous Day of Prayer?