Join the call for peace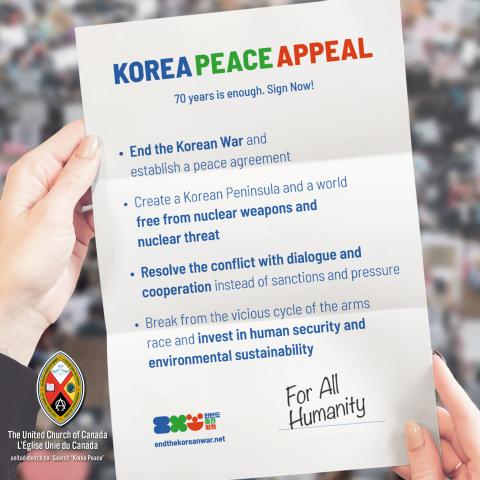 Credit: Korea Peace Appeal and The United Church of Canada
Published On: April 19, 2022
This month, leaders of several Canadian denominations and ecumenical bodies join the call for peace in Korea and publicly endorse the Korea Peace Appeal campaign as champions:
Pastor Peter Noteboom, General Secretary, Canadian Council of Churches
The Rev. Susan C. Johnson, National Bishop, Evangelical Lutheran Church in Canada
Archbishop Linda Nicholls, Primate, Anglican Church of Canada
Jeanette Hanson, Director, International Witness, Mennonite Church Canada
The Rev. Dr. Daniel Scott, Moderator of the 146th General Assembly, The Presbyterian Church in Canada
Ms. Aisha Francis, Executive Director, KAIROS Canada
This brings the number of Korea Peace Appeal Champions to 40 individuals within The United Church of Canada, across Christian denominations, and in communities across Canada. Our colleagues at the Korea Peace Appeal in Korea tell us the number of Canadian signatures collected is now 1,397.
In this Easter season, the World Council of Churches invites us to pray with the National Council of Churches in Korea their 2022 Easter Prayer for Peace and Reunification on the Korean Peninsula (also available in Korean). As well, all are invited to A Call to Prayer and Action for Peace in Korea, a special livestream worship service with the Rev. Eun-kyung Kim, Moderator of The Presbyterian Church in the Republic of Korea, at 9:00 a.m. ET, 27 April 2022, on The United Church of Canada YouTube channel.
Peace now―End the Korean War! Sign the Korea Peace Appeal petition.
E-mail   to become a Korea Peace Appeal Champion.
8,603 more Canadian signatures to go!
Korea Peace Appeal Champions (as of April 19, 2022)
Moderator Right Rev. Dr. Richard Bott
Rev. Dr. Kyongja (Kay) Cho
Rev. SunDo Hyun, Korean United Church Network
Rev. YoonOk Shin, Korean United Church Network
Hannah Kim-Cragg, Richmond Hill United Church, ON
Thea Sheridan-Jonah, St. Paul's United Church, ON (studying at UBC)
Rev. Catherine Christie, Abbey-Lancer-Portreeve Pastoral Charge, SK
Sandy Hwang, Vancouver School of Theology, BC
Treena Duncan, Executive Minister, Pacific Mountain Region, BC
Rev. Cari Copeman-Hayes, Past President (BC Conference), BC
David Lim, WEUC and Korean Community in Toronto, ON
Ken Dean, Aldergrove United Church, BC
Kaitlyn Ostrander, Arden Pastoral Charge, ON
Min-Goo Kang, Fort Garry United Church, MB
Nam Cho, East Central Ontario, ON
Tina Conlon, Davenport Perth Community Ministry, ON
Diane Matheson-Jimenez, Horseshoe Falls, Western Ontario Waterways, Antler River Watershed,
ON
Kathy Douglas, Horseshoe Falls, Western Ontario Waterways, Antler River Watershed, ON
Patti Talbot, United Church General Council staff, ON
Lori Neale, United Church General Council saff, ON
Scott Kell, Thorndale United Church and Camp Bimini, ON
YongSeok Baek, St. David's-Queenston United Church, ON
Sung Ran Kim, Countryside United Church, ON
Ha Na Park, Immanuel United Church, Winnipeg, MB
Amy Yea Kyong Lee, Davenport Perth United Church and Co-Chair United Church Korean Network
Nam Ok Yoo, Willingdon Heights United Church, BC
Andrew Lee, York United Ministries, ON
John Egger, United Church Mission Co-Worker with PROK in Seoul, Korea
Hae-Bin Jung, Alpha Korean United Church, ON
Lyall Campbell, St. Andrew's United Church, Outlook, SK
Lark Kim, ON
Emo Yango, United Church General Council Staff, ON
Rev. Mi Yeon Kim, For Macleod-Granum Pastoral Charge, AB
Rev. David Kim-Cragg, St. Matthew's United Church, ON
Pastor Peter Noteboom, General Secretary, Canadian Council of Churches
Rev. Susan C. Johnson, National Bishop, Evangelical Lutheran Church in Canada
Archbishop Linda Nicholls, Primate, Anglican Church of Canada
Jeanette Hanson, Director, International Witness, Mennonite Church Canada
Rev. Dr. Daniel Scott, Moderator of the 146th General Assembly, The Presbyterian Church in Canada
Aisha Francis, Executive Director, KAIROS Canada