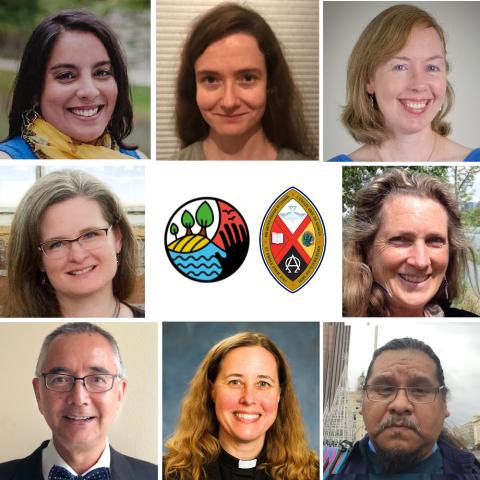 Virtual Ecumenical Delegation to COP26 with For the Love of Creation. Clockwise from top left: Sabrina Chiefari, Stephanie Stringer, Darlene O'Leary, Janet Gray, Tony Snow, Rev. Alecia Greenfield, Nelson Lee and Karri Munn-Venn.
Published On: October 26, 2021
The growing global climate crisis requires coordinated efforts for climate action. Two United Church members, Tony Snow, member of the Stoney Nakoda First Nation and the United Church of Canada Climate Advisory Circle, and Janet Gray, long-time grassroots leader and climate activist on Vancouver Island, will virtually attend COP26, the United Nations Climate Change Conference from October 31–November 12, 2021 as part of our joint Ecumenical delegation with the For the Love of Creation (FLC) initiative. And in a parallel initiative, the United Church joins 36 institutional investors managing $5.5 trillion in assets signing on to a new Canadian Investor Statement on Climate Change as a member of the Responsible Investment Association, pledging to manage their assets in promoting a transition to a low-carbon economy.
The climate crisis compels us as people of faith to raise the alarm and up the bar of our involvement. Attending COP26 is an opportunity to work with citizens from around the world, and ecumenically within our delegation to amplify the voices of those most affected, call for urgent action and strengthen the movement for climate justice. —Tony Snow
United Church members are invited to engage with the issues and calls for global action.
On Wednesday, November 3 at 6:00 PM MT, attend the special COP26 virtual screening of End of the Line: Women of Standing Rock hosted by Chinook Winds Indigenous Ministry.
On Thursday, November 4 at 1:00 PM ET, meet the COP26 delegates when they lead a workshop: COP26: Climate Justice Now as part of the free Engage: Love and Justice Gathering.
Additionally, people across the globe are called to participate in a Global Day of Action on Saturday, November 6 in local marches in concert with COP26 marches in Glasgow.
The United Church holds accreditation status in the United Nations Framework Convention on Climate Change; sharing its status allows for an ecumenical delegation to bring broader participation and coverage from the delegates. Some of the delegation will be able to access accredited spaces and some will access publicly available COP26 programs. All will work together to meet the goals of the delegation. More information on this joint delegation can be found on the For the Love of Creation webpage on COP26.
Further news, stories, and calls to action will be posted on Facebook and Instagram regularly, using #UCCanCOP26 and #FLCCOP26.