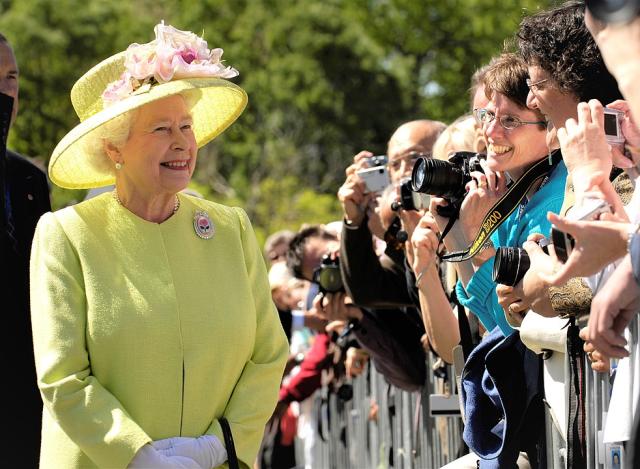 Credit: NASA/Bill Ingalls / Wikipedia
Published On: September 8, 2022
Members of The United Church of Canada join with others in Canada, Bermuda, the Commonwealth, and many other parts of the world in mourning the death today of Her Majesty, Queen Elizabeth II. Queen Elizabeth was 96 years old.
Queen Elizabeth was the longest-serving monarch in the history of Canada. Many of us have no living memory of any other queen or king. We recognize the complex feelings many will have about the legacy of the monarchy. The United Church of Canada honours the lifelong faithful service that Queen Elizabeth gave and her dedication and commitment to many charities and service organizations.
As a Christian church, we hold that death is not the final reality and that all people will find fullness of life after death. We honour and respect Queen Elizabeth as a person, and acknowledge her death with sorrow. We give thanks to God for Queen Elizabeth, for a life well lived and for the completion of her life in the embrace of our Creator. We send our condolences to the King and the other members of the Royal Family.
While we honour the ways in which Queen Elizabeth has lived faithfully, we also lament the role of the monarchy in colonization in many countries, including Canada and Bermuda. We know that power, privilege, and sin can and do accrue within institutions and systems. As a result, the history of the monarchy and colonization, embedded within systems of White superiority, have had harmful and ongoing impacts on many communities within Canada, including Indigenous communities and racialized communities (particularly those with ties to countries of origin that have also experienced the trauma of colonization).  "A Song of Faith" reminds us that
"This brokenness in human life and community
is an outcome of sin.
Sin is not only personal
but accumulates
to become habitual and systemic forms
of injustice, violence, and hatred."
We acknowledge that the Queen, like all Creation, is created in the image and likeness of the Creator. We honour the ways in which Queen Elizabeth has lived faithfully into this image.  We mourn the ways in which she, as the embodiment of the Crown and the structural sins of a colonizing Great Britain, has often not lived into this image or likeness. We rest, however, in the assurance that God's grace is unfailing and in the promise that
"As children of the Timeless One,
our time-bound lives will find completion
in the all-embracing Creator."
A prayer to commemorate the death of Queen Elizabeth can be found here.