New format blends personal stories, news-centred stories, and spiritual focus.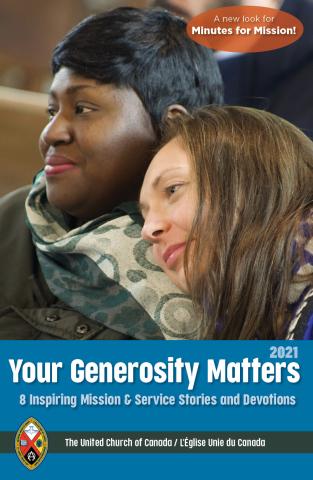 Credit: The United Church of Canada
Published On: November 19, 2020
Minutes for Mission, a booklet of weekly stories about United Church's Mission & Service partners, has long been a key resource to tell stories about the shared justice work of the denomination. And it's changing in 2021.
In the same way that COVID-19 ushered in radical changes to the ways congregations worship and communicate, the pandemic has altered the way Mission & Service stories will be shared, too.
"Usually, we have to write Minutes for Mission stories a year in advance. When the pandemic hit, many of the stories we published for the year seemed tone deaf. For example, some talked about in-person gatherings that we anticipated would happen and either never did or took place online. Others described in-person ways we support those in need, so they were completely out of touch with our current reality," says Sarah Charters, Acting Director of the United Church's Philanthropy Unit.
The upshot is that this year, the denomination is publishing eight stories in its revamped Minutes for Mission booklet, now called Your Generosity Matters. Rather than describing programs, these stories feature eight real people whose lives have been transformed or who are helping to change lives thanks to generous Mission & Service gifts. In addition, all eight stories are accompanied by devotions for personal use, meetings, or small groups. Each story will have an accompanying video.
"We really want to demonstrate that generosity is connected to our spiritual life and can foster a deeper relationship with God," says the Rev. Trisha Elliott, who wrote the new booklet. Elliott is quick to say that while eight stories are being published initially, there will also be special Minutes for Mission stories and videos for Easter, Thanksgiving, and Christmas. In addition, more news-focused features that can be shared as Minutes for Mission will be published all year long.
"We don't know what COVID will bring in the new year, so we will be rolling out timely stories year-round so our donors know exactly how their support is making a difference during this crisis," says Elliott. "Church members need to know what their money is doing right now. I think they also need to hear about those who are becoming more vulnerable by the day because of COVID. Timely news is a matter of justice. Basically, we will be sharing as many stories as ever but they will be delivered differently so that we can break news," she says.
The eight Minutes for Mission stories will be available in January, and the more news-focused stories will begin to roll out in January, too. All of the stories will be accessible by clicking Mission & Service on the homepage and then Stories of Our Mission. Alternatively, anyone who is interested can have stories delivered directly to their inbox each month by subscribing to the Philanthropy Unit's newsletter, God's Mission, Our Gifts.
"We are excited about the new format. The spiritual focus and the blend of personal stories of life-change as well as news-focused stories are important," says Charters. "We hope the overall result is timely, impactful storytelling and accountability to our donors. The church is making such an incredible difference at home and around the world through Mission & Service right now. We want people to know exactly what their support means. We encourage people to ask questions and offer feedback by e-mailing Mission & Service."