The United Church is in solidarity with partners around the world as they respond to the effects of the virus in their communities.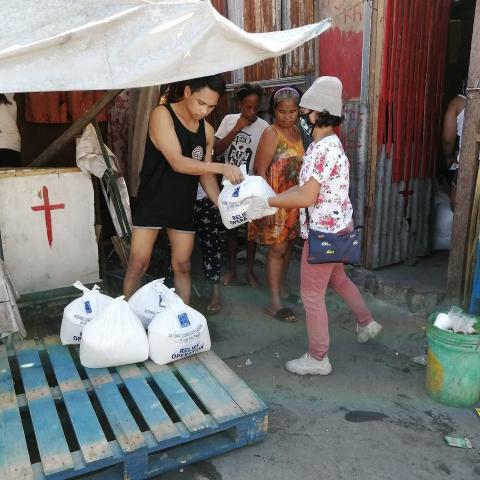 Mission & Service partner the National Council of Churches in the Philippines distributes food packs and health sanitation kits to urban families affected by COVID-19.
Credit: Ylah Alba/NCCP
Published On: April 14, 2020
We are not alone. The COVID-19 crisis is affecting all parts of our world, with vulnerable communities in Canada and elsewhere most at risk. In his March 19 letter to Mission & Service partners (available under Downloads, below), Moderator Richard Bott encourages us all to find "tangible ways of supporting each other—and all of God's world—in this time, and in the days to come." This will require our collective extended efforts stretching into months ahead.
The United Church is in touch regularly with global partners, many of whom face similar challenges to the ones facing Canada, with even fewer resources. Thanks to your support, the United Church has already contributed $20,000 from our Emergency Response Fund to the ACT Alliance's Rapid Response Fund for its Global COVID-19 Appeal.
The most tangible immediate response globally relates to public health. However, what has begun as a health issue will impact existing humanitarian crises everywhere, increasing food insecurity and even further reducing access to other basic necessities such as clean water, stable income, and safe shelter.
Mission & Service partners tell us COVID-19 is impacting people in their communities in different ways.
The Philippines
In the Philippines, COVID-related lockdown is being enforced by the military. Mission & Service partner the National Council of Churches in the Philippines is responding the needs of families in urban poor communities with food packs and health sanitation kits, working in cooperation with local leaders and officials amidst the quarantine.
Palestine
In Palestine, livelihoods are affected by a struggling economy now in sharper decline. People are tapping into limited savings, if they have any, to provide food for their families. Savings will soon run out. The Department of Service to Palestinian Refugees of the Middle East Council of Churches has reached out to vulnerable communities about their particular needs during the pandemic and is offering support where possible.
Zimbabwe
Partners in Zimbabwe say the number of COVID-19 cases is growing. The pandemic will place a heavier burden on a country still reeling from the successive climatic disasters of drought followed by Cyclone Idai. Zimbabweans also face the lack of access to basic health services, and a severely compromised economy where hyper-inflation makes buying staple foods like maize meal difficult. The Zimbabwe Council of Churches continues its food assistance project and is using international standards for safe physical distancing during food distribution to communities affected by the drought. This work is in collaboration with the United Church through the Canadian Foodgrains Bank.
Encouraged by the perseverance and commitment of partners, we lift up the words of the prayer offered to the church from the National Indigenous Elders Council: "Help us to understand that we are all relatives."
Downloads