Closure of Ontario church buildings still allows for online worship from the premises.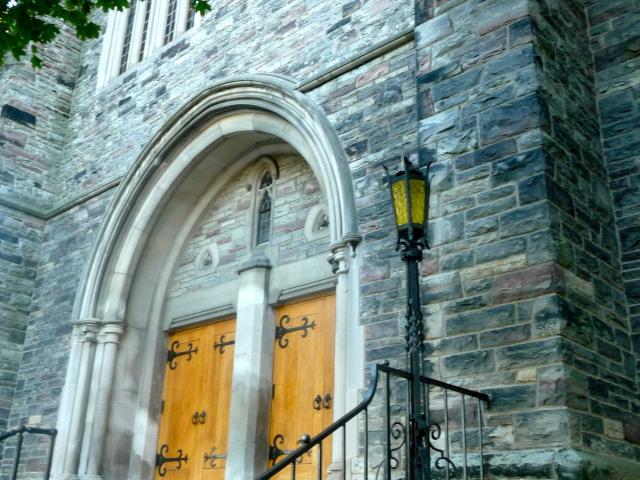 Credit: C. Kutchukian/The United Church of Canada
Published On: March 26, 2020
This modifies the advice we gave you on March 25, after the Ontario government announced the closure of all but essential workplaces. Church buildings (other than some community services that may fall under the social services category) were not named as essential, and therefore church buildings need to be closed. In the notice that we posted on March 25, we told you that we interpreted this as precluding even having a small number of people attend in the church to provide virtual worship. However, we have had a clarification that that is not the case.
David Garland, the Chief of Staff for the Solicitor General of Ontario, clarifies that although the wording of the government order did not speak to an exception for churches, it was not the province's intent to shut down people's access to worship services that are livestreamed from the church building as long as that can be done safely on a very restricted basis. He said it is acceptable for the minister and one or two other people to record/livestream a worship service in the church as long as physical distancing protocols are followed.
So there is some limited leeway under the law in Ontario, and within this, worship leaders can assess what is suitable in their circumstances. We continue to recommend that alternative ways of sharing worship be explored and a high priority is placed on the safety of worship leaders.
This does not preclude creative ways to connect with members and worship together. Online worship can still be offered from the homes of worship leaders using technology. Ministers and others in the faith community can also stay connected with one another through social media, telephone, and the variety of technological options available.
Buildings can still be entered by the custodian, another designated staff, or a volunteer to check heating, water, and so on and to pick up mail and cheques, but no work can be done from the church. This note relates specifically to the legal requirements now in place in Ontario. Churches in other provinces and territories should check with their respective government websites on their status under emergency/essential service rules. We are advised that in at least one other jurisdiction, provincial leaders have likened worship leaders to teachers. Students are not to attend school, but teachers will be allowed in the building to teach online. With this interpretation, it would be permissible for a small number of people to go into the church building to provide an online service.
It is important to keep up to date on the directives from your provincial and territorial governments and public health officials. Having said that, clearly it is time for church leaders everywhere in Canada to look for options that do not involve even a small number of people coming together from different households to lead worship, even where social distancing is practised. It seems that week by week, and day by day, more is learned about the threat that the coronavirus poses, and it is especially important that worship leaders care for their own health and that of their families.
A national webinar is coming soon for worship leaders to share ideas about online worship and other ways to stay connected.
We remember now, as always, that God is with us and we are not alone. Thanks be to God.
Nora Sanders, General Secretary
The United Church of Canada