"A just peace is the only way out of the cycle of bombs and guns"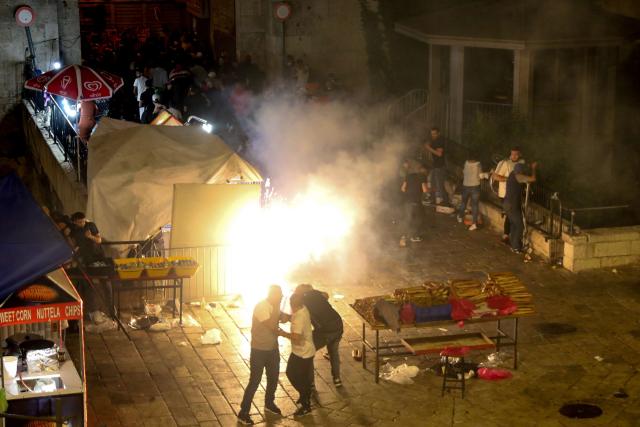 A stun grenade explodes during clashes outside the Damascus Gate of Jerusalem's Old City on May 8
Credit: © Shang Hao/Xinhua via ZUMA Press
Published On: May 12, 2021
The United Church of Canada joins Canadian civil society in renewing the call to the Canadian government to intervene with Israel and de-escalate the spiralling violence and negotiate its end. The violent suppression of peaceful protests by Palestinians against settler-initiated, court-ordered evictions in the Sheikh Jarrah neighbourhood of East Jerusalem have escalated into violence, with more than 300 people wounded by Israel in the city, and a deadly assault on the people of Gaza―with initial reports of more than 50 people killed, among them several children, and the death toll continues to climb—the result of Israeli airstrikes on the Gaza Strip. At least half a dozen Israelis have been killed in rocket attacks from Gaza, including a child.
In an April 20 joint letter to the Minister of Foreign Affairs, Canadian churches, agencies, and networks asked the Canadian government to intervene with the Israeli government to halt the evictions, illegal under Geneva Convention IV (Part III, Section III). Since then, violence has spread to the Al-Aqsa Mosque, preventing Palestinians from daily prayers and violating the sanctity of the revered religious site to both Muslims and Jews. Rockets fired into Israel from Gaza have killed several Israelis and injured many more.
The churches are calling on the Canadian government to renew international efforts to vigorously pursue its policy and demand that Israel stop expanding the illegal settlements in East Jerusalem and the occupied West Bank.
"Palestinian and Israeli partners are clear that negotiating a just peace is the only way out of the cycle of bombs and guns," says the Right Rev. Richard Bott. "I invite United Church people to pray for the peace of Jerusalem and to put faith into action by writing to urge Minister Garneau to uphold international law."
Letters and statements have also been issued by the following ecumenical partners: