This federal election, ask political candidates how they plan to advance racial equity.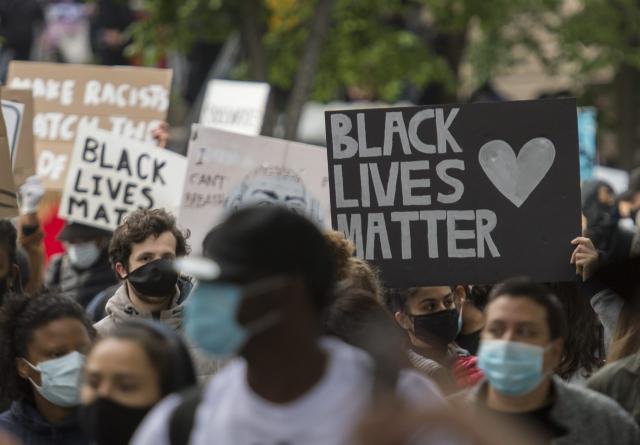 Anti-racism demonstration in Montreal
Credit: Canadian Press Images / Graham Hughes
Published On: August 17, 2021
The United Church's anti-racism policy includes an invitation for people to speak to the world about anti-racism efforts beyond the church and in society. Engaging in conversations about anti-racism and politics during the election is one way of living this out.
Work towards dismantling systemic racism by focusing on a specific area and how that area relates to racial justice. Candidates could be asked, for example, what specific actions they and their political party plan to take in order to create more racially just, equitable, and accessible systems and services.
The Impact of COVID-19
COVID-19 has had a disproportionate effect on people who are Indigenous and racialized. Across the country, the rates of infection for people who are Indigenous and racialized are much higher than for White peoples; similarly, the rates of hospitalization for Indigenous and Black people of colour are also much higher. These high rates are linked to social inequities created by systemic racism and White supremacy.
In some cases, there are more racialized peoples doing high risk or "essential" work (including health care, retail, manufacturing, and distribution) who have higher risk of contact with the virus, causing further risk to their families and neighbours. Policies such as a strong federal sick leave policy will be an asset.
In the upcoming years, recovery from the pandemic will be a priority for political parties. Ask your candidates how they will prioritize the underlying issues of racism affecting the impact of COVID-19 on Indigenous and racialized communities.
Confronting Anti-Indigenous Racism
Indigenous peoples in Canada continue to face racism every day. It takes the form of unmarked burial sites at residential schools, the Indian Act, recognized racial discrimination in the funding of First Nations child and family services, and violence against Indigenous women, girls, and Two-Spirit people. Please read this election brief prepared by Indigenous Ministries and Justice and ask your candidates how they intend to address anti-Indigenous racism.
Addressing Anti-Black racism
The United Church has committed to engaging with the United Nations International Decade for People of African Descent. This decade, which runs from 2015–2024, focuses on anti-Black racism.
The UN noted that Black people in Canada are disproportionately affected by police "carding," unemployment, and poverty. Systemic anti-Black racism continues to have a negative impact on the human rights of Black peoples in Canada. The Prime Minister has noted that anti-Black racism and unconscious bias exist in Canada. How might political parties follow up on this statement? Ask your candidate how they plan to address systemic anti-Black racism, and how they plan to continue to engage with the UN International Decade for People of African Descent. Candidates could also be asked to further explore work on intergenerational trauma and mental health as they affect people of African descent.
Addressing Hate Crimes
Since the start of the pandemic, anti-Asian hate crimes have increased dramatically. In Vancouver, anti-Asian hate crimes surged 717% in 2020—and they continue to increase. Racial profiling, Islamophobia, and other racialized hate crimes continue to take place in alarming rates across the country.
The United Church has written to the Government of Canada about online hate crimes, and noted that that hate is being used to victimize not just those who are targeted by it, but also those who, through innocence or carelessness, are corrupted by it.
The federal government recently announced proposed changes to legislation to address hate crimes. Ask candidates what further legislative changes they might propose around hate crimes, and how they might work with communities of faith, civic institutions, and public leaders to create an environment in which all Canadians enjoy the right to meaningful dialogue.
Representation and Policy Change
As part of the United Church's commitment to becoming an anti-racist church, the church will work towards anti-racism and equity in its policies, decision-making processes, and governance structures. People across the church are invited to be engaged in anti-racism education.
Ask your candidates how they will incorporate anti-racism and equity into their party's work and platform. Ask what policies are in place to address representation in leadership and equity in decision-making. As a whole government approach, how central is anti-racism to their party's framework for governing? How does their party educate itself and its members on anti-racism issues? How will they measure the impact of their anti-racism efforts?
Concluding Words
In committing to becoming an anti-racist church, people across the church are also committed to living out anti-racism in practice and in society. We commit to this work, not alone, but with God. Our anti-racist actions are grounded in prayer and guided by God's Spirit. We pray and we actively work towards racial equity and transformation in church and society.