Peace now―end the Korean War! Please sign the petition.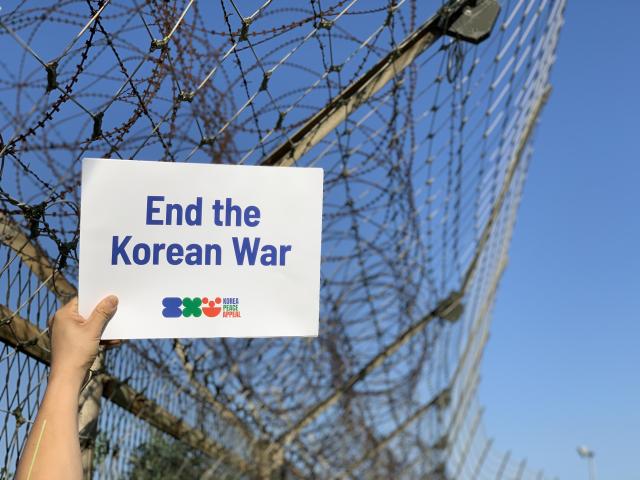 Credit: Korea Peace Appeal: End the Korean War
Published On: February 16, 2022
The United Church of Canada has heard from our colleagues at the Korea Peace Appeal in Korea that the number of Canadian signatures collected since the launch of the United Church's Korea Peace Appeal on January 24, 2022 is 487. That's 5 percent of our goal of 10,000 by July 2022, and considering each sign-on will encourage others…we are well on our way!
The National Council of Churches in Korea welcomed the Moderator's launch video, describing it as a "great encouragement." Without delay, the NCCK created a version with Korean subtitles now publicly available.
Join the organizing effort by participating in the Korea Peace Appeal Organizing Session on February 24, 2022, 2:00‒3:30 p.m. ET. Use this link to register.
Korea Peace Appeal Champions from across the United Church are endorsing the campaign and have begun actively educating others and collecting signatures. The list includes 21 individuals and is growing (see below). They have named a variety of motivations and connections:
As a Korean by birth, the unification of two Koreas is my ultimate dream. ―David Lim

My high school football captain was killed in the Korean war. ―Ken Dean

Spending time in Korea, I know the anguish of the division. ―Rev. Catherine Christie

Peace is one of the key principles in Jesus' teachings. ―Rev. YoonOk Shin
Peace now―end the Korean War! Please sign the Korea Peace Appeal petition.
E-mail  justice@united-church.ca  to become a Korea Peace Appeal Champion.
9,513 more Canadian signatures to go!
Korea Peace Appeal Champions (as of Feb. 16, 2022)
Moderator Right Rev. Dr. Richard Bott
Rev. Dr. Kyongja (Kay) Cho
Rev. SunDo Hyun, Korean United Church Network
Rev. YoonOk Shin, Korean United Church Network
Hannah Kim-Cragg, Richmond Hill United Church, ON
Thea Sheridan-Jonah, St. Paul's United Church, ON (studying at UBC)
Rev. Catherine Christie, Abbey-Lancer-Portreeve Pastoral Charge, SK
David Lim, WEUC and Korean Community in Toronto, ON
Ken Dean, Aldergrove United Church, BC
Kaitlyn Ostrander, Arden Pastoral Charge, ON
Min-Goo Kang, Fort Garry United Church, MB
Nam Cho, East Central Ontario, ON
Maria Conlon, Davenport Perth Community Ministry, ON
Diane Matheson-Jimenez, Horseshoe Falls, Western Ontario Waterways, Antler River Watershed, ON
Kathy Douglas, Horseshoe Falls, Western Ontario Waterways, Antler River Watershed, ON
Patti Talbot, UCC General Council Staff, ON
Lori Neale, UCC General Council Staff, ON
Scott Kell, Thorndale United Church and Camp Bimini, ON