The overall message from the Madrid summit is clear: governments need to enact more ambitious emission reduction targets.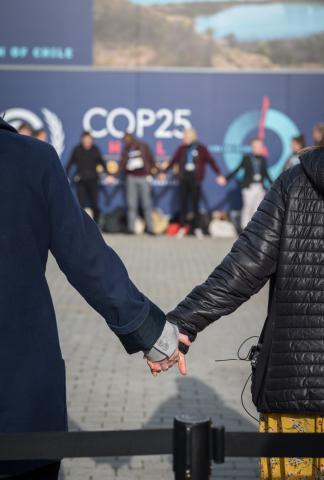 Demonstrators form a "human chain" calling for climate justice and urgent action from world leaders at COP25 in Madrid, December 2019.
Credit: LWF/Albin Hillert
Published On: December 17, 2019
Two weeks of intense negotiations at the United Nations Climate Conference (COP25) in Madrid came to a close on December 15, 2019. The summit went into overtime as rich countries adamantly refused to give in to the demands from countries of the global south for urgent action to address climate losses, commit to additional finances, and enact more ambitious emission reduction targets.
United Church delegates Tony Snow (representing the Indigenous Church), Rev. Wendy Evans, and Christie Neufeldt were part of the broad and diverse civil society presence at COP25 that pressed country negotiators to respond to the urgency of the situation and respect human, Indigenous, and intergenerational rights.
An overall message from the summit in Madrid was sent to all governments. In 2020, governments are required to submit new national climate plans and are encouraged to scale up ambition. Mattias Söderberg, who headed the delegation to COP25 from ACT Alliance (a United Church Mission & Service partner), says: "...[A]ll parties should now return home, and consider how they can scale up their ambition, when they draft their new plans. Parties should keep in mind that the Paris Agreement refers to the need to limit global temperature raise to 1.5 degrees, and that urgent action is needed."
The agreement in Madrid acknowledged the need to mobilize support and finance for those facing losses and irreparable damage due to the effects of climate change. Isaiah Toroitich, ACT Alliance's Head of Advocacy and Development Policy, expresses concern that "there is no promise the support will be new, or additional compared to existing commitments. There is therefore a big risk that loss and damage finance will be taken from existing climate, development and humanitarian funds.... We need new finance, above and beyond already existing money.  Without it, we are just cutting the same cake into smaller slices."
The Canadian civil society delegation (supported by Mission & Service partner Climate Action Network) was the largest of any country.  This diverse delegation included Indigenous peoples, youth, health professionals, and members of the labour movement. People in the United Church are invited to join the growing movement to protect the people and places we love by working for climate justice and a just transition for all to a renewable energy economy.
While the Canadian government delegation was largely constructive during the negotiations, we now need to ensure that the government increases Canada's climate finance contributions, respects Indigenous rights, and delivers on its election promise to bring a new, more ambitious Paris pledge to COP26 in 2020.